Whether you're just joining the workplace, a small or large contractor, work in a dealership or for a manufacturer, there are some management principles that can guide you through your construction equipment career and make you an even more successful leader.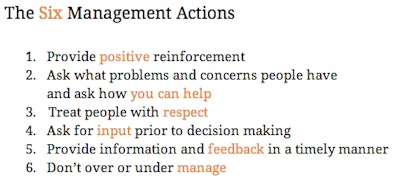 The Six Management Actions are a tried and proven way of working. They are more than an ideology. They become your main beliefs and that of your culture. Deploy these daily and see what happens. It will bring out the best in your people and will change and sustain your company for years to come.
Over the next few weeks I will take you through the Six Management Actions by chronicling some of the events in my career as examples of how they can influence (good or bad) your leadership style.
Action No. 1: Provide positive reinforcement
In the early days in the corporate workplace I didn't have a clue about managing. I was ambitious and wanted to fill my day on the job with meaningful and productive activity. I didn't think much about managing a team or for that matter leading a company. It was much more gratifying to complete a task or project on time and to my supervisor's satisfaction, than to think about managing or being managed.
As time passed it became more apparent that a well-oiled team could accomplish much more than could be accomplished by one individual's contribution. It was fortunate for me that I had very good mentors who, without knowing, in day-to-day activity used the Six Management Actions. They provided opportunities for me to work on a variety of team activities; e.g. continuous improvement projects, new design concepts, brainstorming sessions, etc. It was through their mentoring and coaching that a light came on exposing me to the right way to manage.
To digress, I loved to play basketball and as a young man I learned about the importance helping individuals improve for the betterment of team. My coach was a great mentor and he absolutely knew about providing positive reinforcement. Coach knew that he could make me a better player and was relentless in his efforts to teach me the "drop step" move. If you're unfamiliar with the jargon, it is probably the most important offensive move a center/post player needs to learn to be good at the position. (If you want to know more, look it up and learn the "drop step" at https://betterbasketballcoaching.com/.)
Over and over he would say, "You're getting better, keep practicing". Now, I was not the best to ever play the game, however, I was the most coachable. I finally mastered the "drop step" just in time to help the team to a winning season. That's providing positive reinforcement.
Next up, I'll discuss Management Action No. 2 – Ask what problems and concerns people have and ask how you can help.
About the author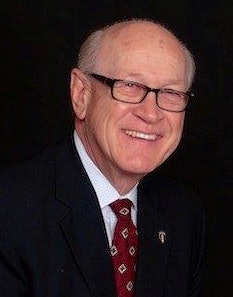 Wes Lee, president of Lee Advisory Services, has a vast resume of experience in the construction equipment business, serving in positions ranging from engineer to president with several companies, including the former International Harvester (now Navistar), Kysor Industrial, Construction Equipment Trading Company, Dresser Industries, the former Komatsu Dresser (now Komatsu America), Eagle Picher Minerals, and Case New Holland (now CNH Industrial). He retired in 2013 as vice president of key accounts for Volvo Construction Equipment North America. He can be reached at www.weslee.biz, [email protected], (828) 279-2068.