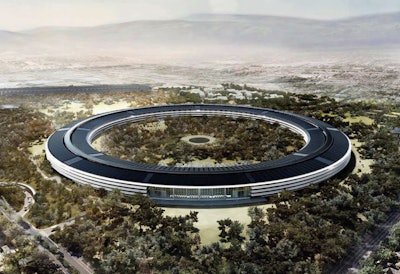 In addition to adding a ton of green space to the town of Cupertino, Apple's planned second campus and headquarters will contribute greatly to the city's economy.
According to a report from Bloomberg, the new HQ will create "9,200 construction jobs and $38.1 million in one-time construction taxes and fees for the city." Apple already funds 18 percent of Cupertino's general funds with the taxes it pays to the city.
That number is will increase with the construction of this new campus. In addition to the actual building of the campus, Bloomberg reports that Apple will be boosting its employee head count by 46 percent to 23,400 and paying some $2.9 billion in wages by 2016.
Planned to be built atop a site currently covered in asphalt, the project calls for a 2.8 million-square-foot campus set among 176 acres of trees. That means Apple will be planting 6,000 trees on the site.
As we reported back in April, much of the building will be made of glass and will certainly prove a challenge for DPR Construction and Skankska USA Building who landed the bid in a joint venture. Early estimates placed the cost of construction at $5 billion but Apple has been working to bring that number down closer to $4 billion.