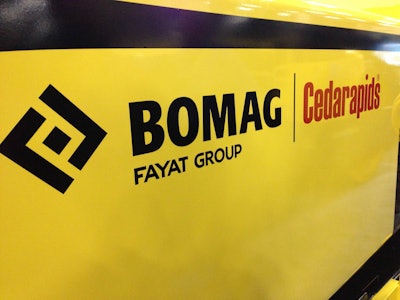 Reporting from the World of Asphalt show in San Antonio, John Latta, editor of our sister publication Better Roads spoke with the folks at Bomag about how the company is branding the CMI and Cedarapids roadbuilding brands it recently bought from Terex.
In short, with a new coat of paint and updated badges.
Bomag brought a CMI stabilizer/reclaimer and a Cedarapids paver to the show—both a bright shade of Bomag yellow and with updated composite logos that bear either Bomag/CMI or Bomag/Cedarapids branding.
In early February, Terex announced that it was selling CMI and Cedarapids to Bomag. Even though the deal only closed last week, Bomag was able to get a couple machines ready with the new branding for World of Asphalt.
"It's not clear if the joint logo was in the sales contract when Terex divested some of its product lines, including these two, to Bomag, but the new owner basically decided it wanted to keep these wonderful names front and center in the industry and so went ahead with a new logo design," Latta reported.
Latta likes the idea, saying it's likely good strategy for Bomag to keep these names around as countless firms in transportation infrastructure are familiar with them.