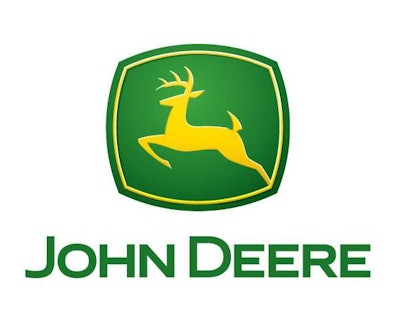 John Deere released its first quarter earnings report this morning, announcing a record $650 million in income as of January 31. That's a whopping 21 percent increase over profits for the same quarter last year.
The big gains in income are largely due to a 16 percent sales increase in Deere's Agriculture and Turf division. The division saw a profit of $766 million in Q1, compared to $574 million a year ago.
Meanwhile, Construction and Forestry sales decreased by 7 percent year-over-year. Operating profit for the division dropped greatly — 43 perent — to $71 million from $124 million a year ago.
In 2013, Deere forecasts Construction and Forestry sales to increase by 3 percent. Deere notes it has a "cautious outlook for U.S. economic growth, higher international sales of construction equipment, and flat sales in world forestry markets."
Deere reports that net sales increased worldwide by 10 percent from Q1 2012 to $7.421 billion. Gains in equipment operations net sales were a bit more modest, increasing to $6.793 billion form Q1 2012's mark of $6.119 billion.
"With our eleventh consecutive quarter of record earnings, John Deere has started 2013 on a positive note and is setting the stage for another successful year," said Samuel R. Allen, Deere chairman and chief executive officer. "These results are further proof of the adept execution of operating and marketing plans aimed at expanding our global market presence while maintaining a tight grip on costs and assets."