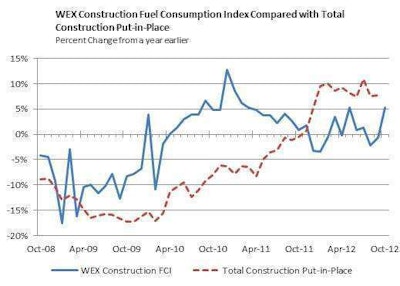 WEX and IHS have released results of the WEX Construction Fuel Consumption Index (FCI), which indicated an increase of 3.6 percent in November year-over-year.
The WEX Construction FCI measures national fuel consumption statistics for the construction industry to provide an up-to-date indication of construction activity in the United States.
For November 2012, the WEX Construction FCI reported that fuel consumption by United States construction companies increased 3.6 percent versus November 2011 and decreased 0.2 percent versus the previous month.
Last month's WEX Construction FCI was consistent with the growth indicated by most of the government's subsequent construction data releases. Construction spending excluding improvements increased by 1.3 percent in October, and private residential construction showed growth of 3.0 percent.
October housing permits, mixed with total permits, fell by 2.7 percent but remained 29.8 percent above their October 2011 level. Housing starts increased by 3.6 percent in October to an annual rate of 894,000.
In November, stalled growth coincided with a loss of 20,000 construction jobs. Total construction put-in-place grew by 1.4 percent in October.
Despite month-to-month stalled growth in November, the WEX FCI reported the fourth positive year-over-year growth in the last six months. The United States housing market is improving gradually; new home sales in October were at a 368,000-unit annual rate, neither gaining nor losing ground after the preceding three months were revised down.
While home sales inventories grew to 147,000, they continue to linger close to the record low of 143,000 from August 2012; this will likely spur builders to put up new homes to prevent losing sales in addition to higher prices.
In October, the average price of a new home was 8.0 percent higher than the previous year. Although new home sales are on an upward trend, they are not expected to reach levels above 800,000 until 2015.