ANTIQUE IRON
Keep it in the Family
By Tom Jackson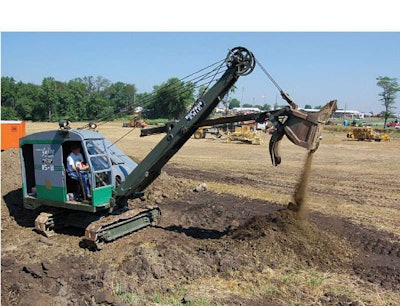 When your family is in the quarry business, you tend to run through a lot of heavy equipment. But there's a sentimental reason Larry Kotkowski, president of Lakeside Sand and Gravel, Mantua, Ohio, has hung onto this 1942 Bucyrus-Erie 15B shovel. It's the machine his dad started the business with after WWII.
Kotkowski and his brother Larry, vice president of the company, have completely rebuilt the shovel along with coworkers and friends. "We totally disassembled it right down to every track pad," he says. "Everything was taken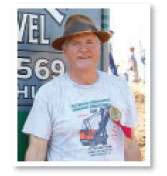 off the deck except the counterweight. Every bearing and seal was replaced. The engine was rebuilt, every clutch was relined. We went through every inch of that machine and made it run like new. Anything we can't find, we have to make."
The 15B is not the only machine Kotkowski has worked on. He and his friends currently have three pieces they're restoring and the company is home to more than 180 pieces of antique equipment and trucks. "I've got a whole group of guys that come down to the shop for this, a lot of retired crane operators," he says. "They all like to work on the old machines and we meet every Wednesday."
The latest refurb took about a year and now Kotkowski brings it out for demos and events at his own quarry and also uses it to make the dirt fly at the Historical Construction Equipment Association's annual conventions. Kotkowski is the current president of the HCEA and says the group is an important link to America's history. "There are a bunch of us working to preserve this stuff," he says. "A lot of people restore cars and trucks, but there are not a lot of people working to preserve the history of building in this country."
If you would like to see more antique iron like this, or get involved in preserving its history the HCEA will hold its annual convention September 14-17 in Bowling Green, Ohio. To find out more go to hcea.net.