Leveling the Great Grader Debate
Joysticks, yes or no? Steering wheel, yes or no? Whatever the preference, equipment manufacturers are serving the market, says Georgia-based contractor
By Mike Anderson
On an August morning just west of Chicago, a motor grader was driven across an auction ramp, digging up a few bids along the way. Big deal, huh? Well, considering this particular Caterpillar was a 1962 model, and the venue was not a historical equipment auction, it speaks volumes to the venerability of the motor grader as an equipment type. This unit could very well, at 49 years old, have been headed off to tackle some more work, and not looking-pretty-at-a-weekend-show type of work either. Talk about a money maker!
While well-maintained older motor graders can remain productive players in a fleet, the reality is the operators of these machines tend to earn and keep their places, too. But as these bladehands increasingly retire, ably replacing what are often the most experienced, persnickety and touch-gifted equipment operators on any jobsite is a major motivator behind machine technologies introduced by the half-dozen manufacturers of full-sized graders today.
Caterpillar, the longtime "owner" of the motor grader market worldwide, shook things up with the initial 2006 production of the joystick-controlled M Series machines. Compared to the grader's conventional levers and steering wheel, the two electro-hydraulic joysticks reduce the operator's hand and wrist movements by upwards of 80 percent, said Caterpillar, which is now rolling out next-generation M Series 2 models. The effect was felt by equipment owners, operators and managers across the country and around the world, suddenly faced with the dilemma of whether or not to take on a new operating system with one of their most traditional, steadfast and important machine types.
Grader debate
Responsible for overseeing grading and concrete equipment for large Georgia-based contractor E.R. Snell, company vice president Van Snell has experienced both sides of the "great grader debate" coin – all with the same unit!
With a 24-machine grader fleet traditionally stocked heavily with Caterpillar models, Snell purchased a 14M in 2007. As feared, his most seasoned, expert grader operator "got frustrated and never could really catch on to it. We ended up putting him back on an older machine," says Snell, "and we trained a younger guy to run the new machine. He's been on it ever since and does a fine job with it."
It's a Catch-22, he says. "There's both good and bad with this new approach. A young operator will pick up on it pretty easy, but with an older guy it's hard to get him to go through that learning curve. Therefore, with the last one we purchased, we went with Volvo, simply because it was set up more like the old Caterpillar. Then, you know, one guy can get off it and another can get on it and run it. We like that idea, especially in today's market."
As often the senior operating craftsmen on the jobsite, grader operators tend to be grader operators only makes the transition from a traditional to a new operating system even more challenging, says Snell. If they're in a grader, they're there for a reason – and that's quite frankly because they've got the touch. Their skills are required at the controls of a grader more than a backhoe or roller.
On the other hand, Snell points to his young grader operator, "a college graduate who
caught right on to the new Caterpillar and loves it. In fact, it might be a little bit of a challenge for him to get back on the older style at this point," says Snell. "I have a 14-year-old son and there's no doubt in my mind that he can grasp it fast, too, because he plays the video games. This is right up his alley … one or two little knobs, a bunch of buttons, and that's the way the new ones operate."
Deere solution
For the others among the relatively small group of motor grader manufacturers (see Machine Matters Roundup on page 28 for a look at half-dozen competing in the 170- to 199-horsepower class), positioning their product offering as an alternative has become a focal point.
In the case of John Deere, "it's not one size fits all," says Kent Stickler, product marketing manager for motor graders. With a choice between traditional console-mounted controls or armrest-mounted fingertip controls, "you're free to choose the style that makes you the most comfortable and productive," he said during this year's introduction of the Tier 4 Interim G-Series models. "And every grader has a steering wheel, no matter which control system you pick." Grade Pro (GP) versions of the Deere machines feature the armrest-mounted controls, teamed with cross slope and return-to-straight functions, "the controls that all the blade operators prefer," says Stickler. "There's no need to re-learn how to run this motor grader."
Caterpillar, with the release of the M2 models, offers integrated cross slope from the factory, notes Dan Gillen, worldwide product application specialist. Other updates include auto differential lock and unlock, selectable blade lift modulation, a swing-out cooling fan and electronically-adjustable control pods, in addition to the increased power, reduced fuel consumption and regeneration capability of the Caterpillar Tier 4 Interim engine solution.
Snell, whose grader fleet includes Komatsu models on top of the recent Caterpillar and Volvo additions, says various considerations come into play when it's time to add a machine. Weight and horsepower are key, but so too is "operator friendliness … the way it's set up, the controls, the feel." Snell seeks the input of his operators. "Every time somebody comes out with something new, we try to demo it. We'll stick it out on a project for three or four days and let our guys run it," he says. "And we use the feedback we get from our guys. We don't want to buy something they're not going to run."
E.R. Snell's recent foray into the Volvo grader offering is not entirely without precedent, he notes. Snell just recently traded in a Champion grader it had bought and operated since the '90s, prior to the evolution of the Champion full-sized products into the Volvo platform (a multi-year process beginning with Volvo's 1997 acquisition of the heritage Canadian brand Champion). "We had real good luck with it," he says.
"Years ago, we ran some Galions. Now that was a little different story," offers Snell. "The Galion just wouldn't hold up – the blade arrangement on it was weak, and the wear parts weren't designed to replace like a Cat, so to say."
Defunct brands aside, do the motor graders on the market today serve the needs of a heavy-highway contractor? "I would think overall they do," says Snell, noting the forever need for pure grunt power. "The biggest problem we're having right now, along with everybody else, is we just don't have near enough work. We have a lot of stuff parked right now.
"As far as the graders, I think what's out there meets the needs, by far, for the kind of work we're doing."
Back in Illinois, and elsewhere around the world, the graders are still rolling across the auction ramp. And, much to the dilemma equipment managers like Snell face, the operators waiting to put them to work are equally on either side, age and otherwise, of the 49-year-old Cat.
Editor's note: We're including the direct-access web addresses to the grader product pages available on each manufacturer's website. To access these quickly, go to our digital edition, equipmentworld.com/digital.
VOLVO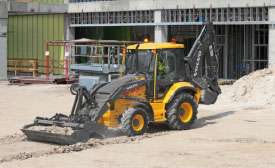 G940B (new)
• 196-232 net horsepower
• 35,843 pounds operating weight
• 12' moldboard length
• 26.5"/26.5" R/L blade side shift
• 31.2/23.7 F/R miles per hour
Reflecting an emphasis on overall machine balance, the new Volvo G900B-Series graders have the highest claimed blade down pressure in their classes. What really matters for grader productivity is blade down pressure and blade pull force, the company says, and the G940B model chalks up 17,953 and 22,910 pounds, respectively. With a first-gear net output of 196 horsepower, the G940B remains in the 2011/12 Equipment World Spec Guide's 170- to 199-horsepower range; the G960B and all-wheel-drive G946B shift up to the next larger size group. Using larger-displacement, higher-horsepower engines with cooled exhaust gas recirculation (EGR) technology to meet Tier 4 Interim emissions requirements, each of the four G900B-Series models can be driven by the Volvo HTE840 transmission with eight forward and four reverse gears (standard) or HTE1160 with 11 forward and six reverse gears. These transmissions boast three and eight power curves, matching output to traction, and use a shuttle shift system to move between forward and reverse without the operator either needing to stop the unit or use an inching pedal. For product info, visit: volvoce.com/constructionequipment/na/en-us/products/motorgraders/Pages/introduction.aspx
CASE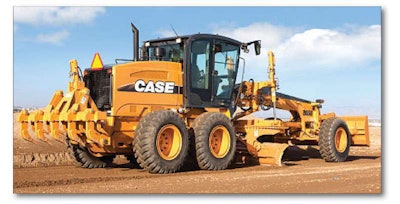 865B VHP (new)
• 178-205 net horsepower
• 35,993 pounds operating weight
• 13' moldboard length
• 27"/21" R/L blade side shift
• 26.6/17.7 F/R miles per hour
Equipped with a standard 13-foot moldboard, the new B Series version of the Case 865 VHP (variable horsepower) is available with either of the 12- and 14-foot moldboards traditional to the motor grader industry. With a maximum ground penetration of 28 inches, the multi-radius "involute" blade moves more material with less horsepower required, says Case. Featuring outer-facing gear teeth, the circle design improves operations and serviceability, maintains gear power and increases the life of circle drive components, the company adds. Blade pitch positions range from 42 to 87 degrees. For the operator of the Case 865B VHP, the forward-mounted articulation joint and rear-mounted cab provide a "commanding view" of the full moldboard and ground-engaging equipment. With a direct-drive transmission offering eight forward and four reverse gears, the updated model maintains the traditional nine-lever control system; a new instrument cluster displays engine and fluid temperatures, as well as 28 machine functions. Exterior lighting options facilitate nighttime operations such as snow plowing. For product info, visit: casece.com/wps/portal/casece/model?product=MotorGraders&brandsite_brand=CaseCE&brandsite_language=en&brandsite_geo=NA&model=Model_MotorGrader_865BVHP
CATERPILLAR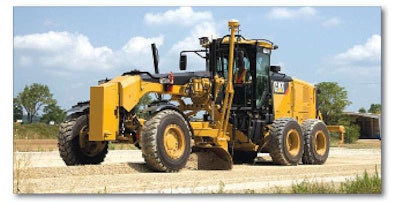 140M2 (new)
• 193-243 net horsepower
• 42,152 pounds operating weight
• 12' moldboard length
• 26"/20.1" R/L blade side shift
• 29/22.9 F/R miles per hour
Widening the horsepower range along the way, Caterpillar meets Tier 4 Interim emissions requirements in its new M Series 2 motor graders with a C9.3 engine leveraging the building blocks of Cat's ACERT technology. This technology, the company explains, combines refined fuel, air management and electronic systems with the Cat NOx-Reduction System and Clean Emissions Module (CEM). The NOx reduction system captures and cools a small volume of exhaust gas, before returning it to the combustion chamber; the tightly-packaged CEM aftertreatment unit includes a diesel oxidation catalyst (DOC), diesel particulate filter (DFP) and the Caterpillar Regeneration System. Introduced with the M Series, a product development that fundamentally changed a highly traditional machine market, the Cat control system uses two electronic joysticks that translate to 80-percent fewer hand and wrist movements compared to the conventional levers, the company claims. The new 140M2 is also available in an all-wheel-drive AWD version, featuring a higher first-gear horsepower output (202 vs. 193). For product info, visit: cat.com/cda/layout?m=432608&x=7
JOHN DEERE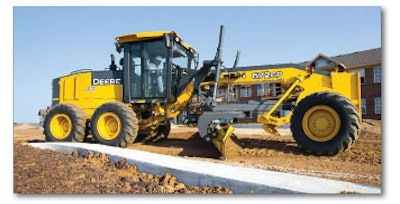 770G
• 170-245 net horsepower
• 36,130 pounds operating weight
• 12' moldboard length
• 26.9"/26.9" R/L blade side shift
• 28.3/28.3 F/R miles per hour
672G
• 175-195 net horsepower
• 37,470 pounds operating weight
• 12' moldboard length
• 26.9"/26.9" R/L blade side shift
• 28.3/28.3 F/R miles per hour
870G
• 185-265 net horsepower
• 37,520 pounds operating weight
• 12' moldboard length
• 26.9"/26.9" R/L blade side shift
• 28/28 F/R miles per hour
John Deere is the only motor grader manufacturer to offer a choice of traditional console-mounted operating controls and armrest-mounted fingertip controls while keeping a steering wheel with both. With the push of a button on the fingertip-controlled Grade Pro (GP) versions of the Deere G-Series graders, operators can also engage return-to-straight, bringing the rear frame back to center. As well, cross-slope control allows the operator to select a desired slope and maintain it with just one blade lever lift. All G-Series Grade Pro units are grade-control-ready, accepting Trimble or Topcon systems upon customer preference. Deere's Tier 4 Interim engine technology employs cooled exhaust gas recirculation (EGR) for reducing nitrogen oxides, and a diesel particulate filter and diesel oxidation catalyst for cutting particulate matter. Periodic active and passive regeneration automatically cleans the filter without affecting machine productivity, Deere says. With a new engine-stall prevention system, the transmission automatically shifts to neutral when it senses the engine is about to stall out. For product info, visit: deere.com/wps/dcom/en_US/products/equipment/motor_graders/motor_graders.page
KOMATSU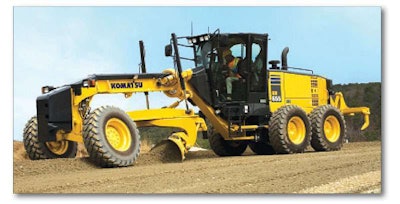 GD655-5
• 180-218 net horsepower
• 35,351 pounds operating weight
• 14' moldboard length
• 32"/32" R/L blade side shift
• 27.5/25 F/R miles per hour
Unique to Komatsu motor graders, a dual-mode power shift transmission offers operators use of direct drive or torque converter with a simple switch. The direct-drive mode has a new anti-stall feature that will, before the machine cuts out during a low-speed application, automatically shift to torque converter mode until such time as normal operating speed is reached again. "These two features will make a novice operator look like a pro," says Komatsu. Providing better control of the GD-655's Dash-5 version, the company says, is a new power train design that positions the engine at the rear, offset by increased weight on the front axle. Three-stage, two-mode engine technology produces higher power with lower fuel consumption, says Komatsu. The operator can select between economy and power mode, depending on application, and three levels of power from first to eighth gear translate to a 20-percent cut in fuel usage compared to the previous lighter model. A 21-percent larger cab offers the operator a clear view to front and side working areas; a tapered engine hood improves the view to the rear ripper. For product info, visit: komatsuamerica.com/graders-GD655-5
NEW HOLLAND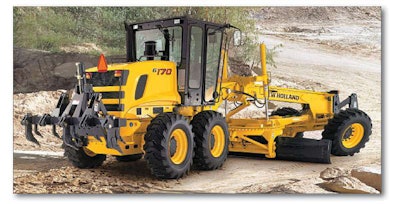 G170
• 180-205 net horsepower
• 31,786 pounds operating weight
• 12' moldboard length
• 28"/21" R/L blade side shift
• 26.6/17.1 F/R miles per hour
Capable of grading slope inclines up to 90 degrees, the G170 boasts one of the largest rotary tables or "circles" in the class, at a diameter of 69 inches, says New Holland. Other CNH differentiators include an exterior tooth design that eliminates the packing issue associated with motor graders and an "involute" moldboard profile that generates a curling, tube-like wave action for material on the blade. By rolling the dirt down the blade's face, buildup is prevented, resulting in a more efficient use of machine power and a reduction in fuel consumption, the company says. For working through the most treacherous conditions, Super Max Trac rear-axle limited-slip differentials automatically deliver up to 60 percent of the G170's tractive force to the axle with the most traction. Up top, the cab is positioned behind the front articulation point, putting the operator in direct view of all grading functions "and providing the confidence needed to operate comfortably in tight spaces," says New Holland. The cab has at minimum 76 inches of head room and 62 square feet of tinted glass, as well as a low sound rating of 77 decibels. For product info, visit: northamerica.construction.newholland.com/family.php
MACHINE MATTERS MORE
Keeping up with evolving technology
By Mike Anderson
For a construction machine type that is about as historical as they come, the motor grader has serendipitously become as synonymous with the fast-evolving advancements in machine control. The grader market's use of lasers and Global Positioning System (GPS) technology is … well … groundbreaking.
And, as the leading suppliers of smart technology grow their product lines, the grader's levels of location and blade precision expand right along:
Trimble
With the GCS900 grade control system, "laser-, sonic-, slope-, satellite- and total station-based configurations leverage the same CB450 or CB460 control box and software user interface, making it affordable to adopt the technology and easy to upgrade and add capability as needed," conveys Jeff Drake, Trimble's segment manager for machine control systems.
GCS900 tools range from an entry-level, two-dimensional (2D) cross slope and elevation control platform used for fine grading applications, to 2D's expanded use of laser receivers and sonic trackers for blade lift control, to assorted three-dimensional (3D) options to manage the full orbit of blade tasks from rough grading to finish work.
"When used on 170- to 199-horsepower motor graders, the GCS900 grade control system is ideally suited for a range of grading applications such as road maintenance, new road construction and widening, airport construction, fine grading for concrete pours and slab placement, and commercial site preparation requiring accurate and reliable operation," says Trimble. "Whether he's grading simple pads and slopes or complex design surfaces, alignments and steep slope work, the operator can get to grade at high speeds without sacrificing grade control accuracy or quality of the final graded surface."
For product info, visit: trimble.com/gcs900.shtml
Leica
PowerGrade 2D provides automatic control for slope and elevation and, with the addition of an extra mast and laser receiver, allows the site-prep contractor to put the system to work in any slope direction.
Easily upgraded and fully scalable using the same panel from the basic 2D version, PowerGrade 3D can be installed on graders from any manufacturer using industry-standard Controller Area Network (CAN) protocols, says Leica. Based on the unique PowerSnap concept, a single docking station that allows easy and quick exchange of panels, operators need only to snap the control panel into place and get to work. Not only can 2D panels be swapped out with 3D panels, but they can be transferred between machines.
If a contractor is not sure if he wants to make the whole investment today, then he can buy a 3D-ready panel and upgrade later. If he only needs 3D for a short period, he can rent the GPS/robotic tool station as well as the 3D software. PowerGrade works with both Global Navigation Satellite Systems (GNSS) and total station configurations, "combining ease of use and unrivaled flexibility with a powerful and intuitive user interface."
For product info, visit: leica-geosystems.com/en/Grading-Solutions_63792.htm
Topcon
Topcon prides itself on its simplicity of use and what the company terms "upward and backward compatibility." A grading contractor could have invested in a Topcon 2D motor grader system in 1989, says Topcon, and today still be able to use the system's core components. These include the mainfall, slope and rotation sensors, as well as the machine's hydraulic hardware.
GPS machine control provides site-prep contractor with a return on investment that is "unprecedented" in the dirt moving business, Topcon says. "Only this technology enables a contractor to reduce up to 90 percent of engineering costs, dramatically increase the machine's productivity and better control material costs. These benefits make it possible for site contractors to bid more competitively, which is especially important in these challenging economic times." Factor in, too, the fewer passes required to grade with a GPS-guided machine and the reduction in fuel costs and wear and tear on the grader.
On the laser side, Topcon's RL-100 1S, RL-100 2S and RT-5SW slope lasers use high power infrared or nearly invisible beam lasers that broadcast over distances of 2,500 feet or more at exacting slopes.
For product info, visit: topconpositioning.com/products/machine-control
Caterpillar
Introduced this year at CONEXPO-CON/AGG, Caterpillar offers integrated cross slope as an option on specific Tier 4 motor grader models offered by the company.
Thanks to real-time blade slope position information via an integrated messenger display, the grader operator can maintain a targeted percentage of slope when building roadways, parking lots and building pads. This reduces the amount of rework often required at a jobsite when trying to grade and maintain proper drainage by enabling the operator to concentrate on one side of the blade and place material more consistently at the correct desired slope, says Adam Tate, Connected Worksite technology specialist. Other benefits include reduced wear and tear on the operator by automating one side of the blade, reduced fuel burn and machine wear by eliminating rework, and reduced material loss by maintaining proper slope for drainage.
The integrated cross slope package also includes the Attachment Ready Option (ARO) for upgrading to other 2D and 3D systems, such as GPS, total station, laser and sonic, as part of Cat's AccuGrade suite.
For product info, visit: cat.com/technology/earth-moving-solutions/accugrade-grade-control-system.