Jason Willard
Chattanooga, Tennessee
He started out with just a lawn mower. Now he's up to a D6 thanks to good relationships, investments in his crews and a patient attitude.
By Tom Jackson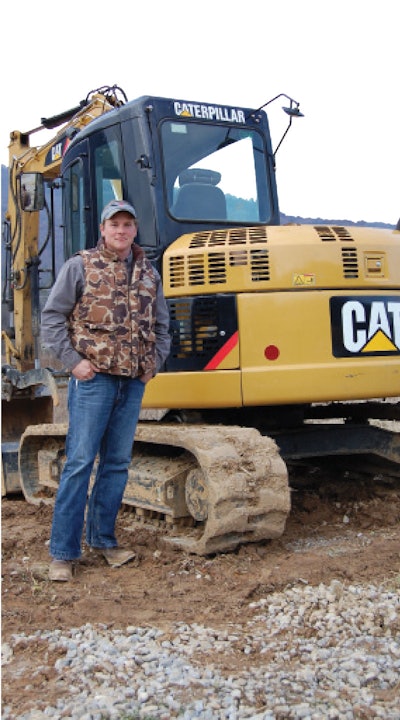 Bluestem Landscape and Design
Year started: 1998
Annual volume: $4 to $7 million
Markets served: Excavation and clearing; residential/light commercial construction; full service landscape design, installation and maintenance; wetlands creation and restoration.
Walking back to his car after his last exam in his last course in his last year of college, Jason Willard was just beginning to wonder what he was going to do with the environmental science degree he'd soon be awarded.
But a chance meeting with a friend in the parking lot that evening turned into a job offer with a landscaping company, and that changed everything for Jason. Within two years, he had bought out his friend's interest in the business and in 1998 launched Bluestem Landscape and Design.
"Bluestem started with a few pieces of lawn equipment, tools, a trailer and some maintenance contracts," Jason says. "I worked with two other men and we mowed three days a week and landscaped the other days."
A good start
Jason grew up on a farm. His dad built and remodeled houses and Jason tagged along from an early age. A job as a teenager in a nursery cultivated an interest in plants and landscaping. By the time he got out of college he had the basic skills he needed.
While landscaping helped launch the business, there's a lot of construction behind it today. Early on Jason found success doing landscaping and irrigation systems for area homebuilders. But he often found that he had do to a lot of remedial work – bringing in fill and cutting down high spots – before landscaping started because the finish sitework was not appropriate for his landscape materials. And this typically happened at the point where a builder's budget for extras or rework was gone.
Jason talked to his homebuilder clients and convinced them to let him do the sitework and the finish landscaping – more or less doubling the amount of work he performed per job and eliminating the inefficiency of having to rework a previous subcontractor's job. That opportunity led to the purchase of a Cat 257B track loader.
Jason recognized the growth opportunities inherent in the heavy equipment end of the business. He convinced a high school friend who was a talented equipment operator to join his company so it could grow it's excavation business. Since then he has purchased a dump truck, and a slew of Cat equipment including a 304 CR compact excavator, D3 dozer, 277 C track loader and 308 D CR excavator. With this fleet he was able to branch out into residential and commercial lot clearing, road construction, basement excavation, foundation installation, septic system installation and Redi-Rock retaining wall installation while continuing the landscaping and irrigation portion of the business.
Machine smart
Jason says his first compact excavator, when used with attachments, has had a big impact on the way he works. He had been digging holes with an auger attachment on a track loader, but that required a lot of stop-start positioning to get the machine in the right spot.
With the 304, however, he could put the boom anywhere within its reach, dig a hole and then swing to the next spot – in essence digging two holes faster than he could dig one with the track loader.
Jason's operators do the daily PMs, but he lets his dealer, Stowers Machinery, handle everything else on a service contract. He orders all of his machines today with enclosed cabs and air-conditioning. He feels this is important to retain workers and to keep them productive when heat or weather might otherwise slow them down. He's a buy-and-hold kind of equipment customer, but because of the diversity of his projects he doesn't put a lot of hours on any one machine.
Design matters
While the earthmoving and heavy end of the business grew, Jason did not lose sight of the company's roots. He continues to offer a diversified range of services including pool and spa designs, patios, stamped concrete and pavers, and integrated outdoor lighting and sound systems. Jason also has specialists on staff with certifications that have enabled them to do wetland creation and restoration in a multi-state area. And the company's work has been featured on the Home and Garden Television (HGTV) network.
"The home and garden should work together, each paying tribute to the other," he says. "The front yard is an extension of the homeowners and reflects how they present themselves. The backyard should be a private space and offer an area to rejuvenate the mind, body and senses," he says. The use of computer based design programs allows Jason show clients and potential customers what the finished design will look like before the first bucket of dirt is turned.
Jason's good working relationships with area homebuilders have also allowed him to diversify. He created a real estate holding company called Mountain Land and in 2009 formed a partnership with Vision Homes a residential and light commercial developer.
"As many contractors can attest, 2009 was a difficult year," Jason says. "The decision to invest in this company was a calculated leap of faith." But Vision Homes ended that year on a positive note, he says, thanks to his ability to provide a variety of services and understand and have a vested interest in the bidding process.
Patience prevents mistakes
Despite what seems to be his company's rapid growth, Jason says the most valuable lesson he's learned, and one he learned from his father, is patience. "My father told me, 'With patience comes success.' "While it is important to seize opportunities, it's equally important not to take frivolous risks. When the markets were stronger Bluestem could have expanded its fleet of equipment and personnel to make quick cash on short duration projects. But Jason stayed with a conservative business model and only purchased equipment necessary for the core business. Instead of hiring dozens of laborers he invested in key personnel and made financial commitments to their continuing education and development.
Customer satisfaction
Homeowners and homebuilders can be picky clients, but Jason has made sure his customers feel appreciated. Chip Diamond, environmental manager for Combustion Turbine, says Jason is the best contractor he's worked with. "I'm chairman of a neighborhood board and he does all the landscaping and maintenance in this neighborhood. We have a two-year contract with him and we've probably renewed it four times now. These are homes in the $300,000 to $750,000 range and very demanding clientele and he keeps everybody happy. If anybody says something doesn't meet their expectations, he fixes it, whether it's in the contract or not.
"I deal a lot with his crew members and they're unbelievable," continues Diamond. Everybody is very customer focused. His line of work can be frustrating and he'll take it on the chin sometimes to make a customer happy, but he's also a good businessman. He knows how to make a profit and keep the company healthy. As a businessman on a scale from one to 10, I give him an 11."
Lamar Sandars, director of facility planning, Alexian Village of Tennessee, concurs. "They have an excellent record. His field boss has been with him since day one. He treats them well so he has little if any turnover. They helped us with our Habitat for Humanity house last year and did all the excavation, foundation work, drainage, septic tank and the lot. He had a big part. You'd be hard pressed to find anything wrong with Jason. He's a young man who's got his head on straight." EW