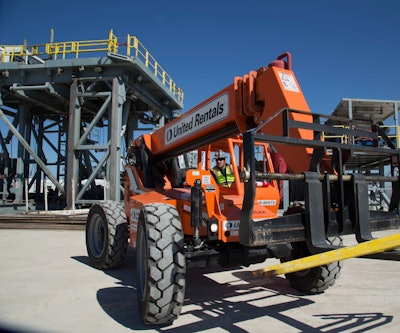 United Rentals
United Rentals made two significant acquisition announcements a day apart, indicating "the time is right to reengage in M&A."
United has bought regional rental player Franklin Equipment and mobile storage and modular office giant General Finance. Combined, the deals add more than 1,200 employees to the rental giant.
Founded in 2008, Franklin Equipment grew to 20 locations serving contractors in Ohio, Indiana, Wisconsin, Kentucky, Tennessee, Alabama, Georgia and South Carolina. Franklin Equipment was a finalist in Big Iron Dealer's 2018 Dealer of the Year program.
The $996 million General Fiance acquisition involves 106 branches and more than 900 employees worldwide. The firm operates as Pac-Van and Container King in the U.S. and Canada and as Royal Wolf in Australia and New Zealand, offering mobile storage and modular office space to several markets, including construction. 
United Rentals says General Finance's position in these space "strongly complements" its general construction, industrial rentals and specialty rentals sectors. Further, General Finance operates in 52 of the top 100 MSAs in North America where United Rentals also has a presence, creating "immediate cross-sell opportunities." This also gives United the ability to introduce mobile storage and modular office solutions to the MSAs currently not served by General Finance. 
United, seeing a "significant potential upside to profitability from the transaction" says it is targesting $65 million of total revenue synergies in the first three years following the close of the deal. 
"We're confident the time is right to reengage in M&A with this highly strategic combination, as our end markets recover from the challenges of 2020," says Matthew Flannery, United president and CEO, in comments on the General Finance acquisition.