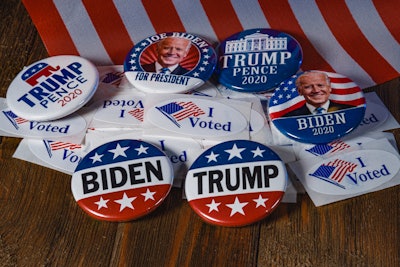 Dealers can expect to see a major focus on a Covid-19 stimulus package and big push on infrastructure spending in a Biden administration, says David Wasserman, editor and senior election analyst for The Cook Political Report, a nonpartisan site, speaking during the Associated Equipment Distributors' Post-Election Virtual Event.
Wasserman made his remarks on Friday, when vote counts were trending towards Biden but news outlets had yet to name him the presumptive winner.
Any infrastructure push – and especially figuring out how it will be paid for – will rely on whether a Biden administration and Congress can play well. "We still don't know the likely status of the working relationship between Biden and McConnell," Wasserman says.
"This is not an election outcome that would lead the country into lerching very far left," Wasserman continues. "We're not going to see a Biden administration pursue a massive program of climate change legislation because it's simply not going to get through Congress." Also unlikely: immigration reform and a major policing and criminal justice reform bill.
Wasserman also expects Biden to choose moderate picks for cabinet positions.
Whether the next Covid-19 relief package passes before the end of the year or at the start of next, Wasserman predicts will it will be more of a "pure small business relief package" without the add-ons that Democrats were pursuing and Republicans said were irrelevant to Covid-19.
Regarding the election results, "there's going to be a lot to unpack for weeks, months and years ahead," Wasserman told dealer attendees.
The first will be whether polls can still be trusted. Wasserman says polls are "like a GPS that can get you into the right neighborhood but not necessarily the right address. In the end, I think they will be about 3.5 points off nationally, which is roughly double the polling error we had in 2016. There's going to be a reckoning in the months and years ahead about polls. There are entire polling outfits whose reputations have been shattered by this election outcome."
Because of this failure, Wasserman thinks there will be a movement toward online polling.
Wasserman also points out that Biden's coattails down ballot "were pretty much nonexistent." Early results have the Democrats picking up only one seat in the Senate and almost losing half of the party's House majority.
Assuming all things hold true as presently trending – with Biden in the White House, Sen. Mitch McConnell heading the U.S. Senate and Rep. Nancy Pelosi in the U.S. House – "this is going to be a moderate's dream come true," says Wasserman. While gridlock may become the rule, there's also the potential for deals to be struck.
One reason behind this, says Wasserman, is that Biden, McConnell and Pelosi are all essentially lame duck leaders because they will all be in their 80s in the next presidential election cycle.  "That might liberate them to get things done before they exit public life," he says.
A regular guest on Fox News, NBC and CNN, Wasserman received widespread recognition for his 2016 election analysis, including his article "How Trump Could Win the White House While Losing the Popular Vote," published two months before the 2016 election.
The Cook Political Report produces the Cook Partisan Voting Index, which measures how each congressional district performs at the presidential level compared to the nation as a whole, according to the group's website. The index has been released after every election since 1996.