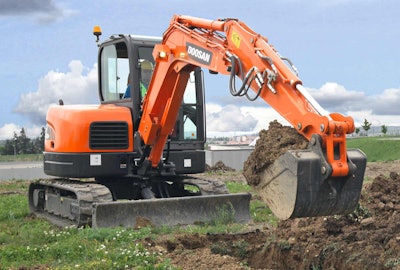 Doosan dealer Best Line Equipment has opened a new facility in New Jersey situated for servicing customers from there and those traveling from nearby New York City.
The new Best Line location is at 275 Clark Street in Keyport, New Jersey and is just 8 miles from New York City borough Staten Island. It's Pennsylvania-based Best Line's first New Jersey location. The company has locations throughout its home state including locations in Philadelphia, Pittsburgh and Harrisburg.
Best Line provides equipment sales, rental and service for Doosan and a wide variety of other brands and equipment types. The Keyport location will serve customers in New Jersey and those from throughout New York City with heavy equipment, compact equipment, aerial lifts, compaction equipment, air compressors and more.

The location will offer the full Doosan heavy equipment lineup including excavators, wheel loaders and articulated dump trucks.
"Doosan gives Best Line Equipment all the tools we need to serve our customers," says Armand Cencetti, Doosan sales manager at Best Line Equipment. "It's been a mutually beneficial relationship between Doosan and Best Line Equipment. We're already being accepted very well in New Jersey and are looking for additional employees to hire in rental, sales and service."
The opening of the Keyport location is the latest milestone in a 10-year business relationship between Doosan and Best Line. In 2019 Best Line was named a top Doosan equipment dealer.