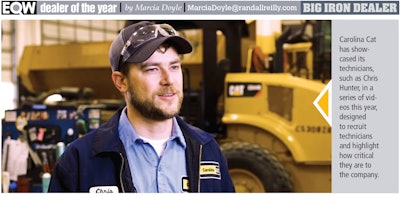 Not willing to rest on its established position as the third-oldest Caterpillar dealer, Carolina Cat has taken a deep dive into what makes customers come back.
It engaged a lean consulting company at the beginning of this year, with an eye toward customer service improvement. Processes reviewed included how jobs are quoted; ordering, staging and delivering parts; and service bay and yard layouts.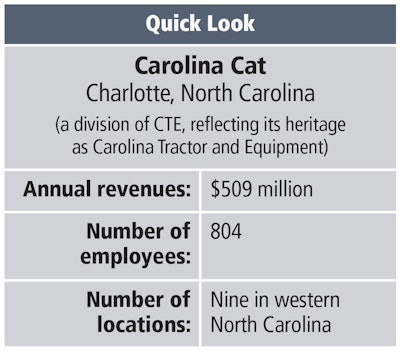 "Our continuous-improvement effort really involved our front lines," says Ed Weisiger Jr., president and CEO of CTE, the corporate parent of Carolina Cat. "When we looked at our processes, we realized we were doing some really confusing things. For instance, when a customer wanted a quote, we had several people involved, so there was an incredible variation of customer experience."
"The program is really rooted in enabling our frontline employees to make more decisions," says Mike Tropsha, vice president, general manager – construction. Instead of solving problems in the boardroom or at the manager level, Carolina Cat went to its technicians and parts employees, who make up over half of its workforce.
"We're not making widgets," Tropsha says. "Repairs differ in scope and complexity, and customers have varied needs. There are, however, many lean principles that we can apply to our business to drive growth while serving the needs of our customers and employees."
The company started using visual management boards, a lean manufacturing tactic that highlights a technician team's progress on safety, quality, delivery/velocity and cost. Under the microscope: rework, the backlog of work orders, how quickly the work is completed and any safety issues.
It would make sense that a manager would lead the daily discussions on how the team was doing, but that's not what happened, reports Kathy Taylor, Carolina Cat chief people officer. "The technicians took it over and now lead that discussion. It was an interesting cultural shift; they take full ownership of those metrics and talk about them every morning."
"Optimizing our service functions and then sustaining and continually improving them is a major focus for us today – and will remain so in the future," Tropsha says. "Service is a key value driver for us and our customers."
Talent search
As with most dealers, Carolina Cat is always on the lookout for technicians.
This year the company is highlighting the importance of technicians in a series of videos. "We want to show them as the superheroes they are and speak both to our current technicians and prospective technicians about how satisfying, rewarding and family-friendly a technician career can be," says Jason Williamson, vice president and chief marketing officer.
Although the campaign is in its early stages, Carolina Cat has seen some good results in the number of applications, reports Elizabeth Bryant, marketing director. "Everything the technicians said in the videos is from the heart," she says.
Technician retention is just as critical as recruiting. Taylor's team studied what was working and, more important, what wasn't. "We got a good sense of where the technician pain points were, including career progression," she says. The company developed competency-based advancement requirements and reviewed its pay structure for technicians across all stages of their careers. Military veterans are another target, especially since they might be more flexible about relocation.
Rental and compact equipment
Around four years ago, Carolina Cat revamped its approach to the exploding rental and compact equipment markets. The company combined the two businesses and dedicated a group of technicians to each segment.
"The rental and compact equipment businesses share similar requirements – speed, availability, and process control," says Neil Carbaugh, vice president of rental/compact construction equipment.
"Availability is extremely important since the rental and compact equipment customers tend to have a shorter planning horizon. If they get a job, they're ready to go. We want to be able to say 'yes' on the first call."
The growth in these two areas prompted Carolina Cat to establish one of its rental facilities across the street from its corporate headquarters in Charlotte. "It's become a kind of test lab for us as we become more retail friendly," Carbaugh says.
Now many aspects of the company's approach to compact equipment resemble the car buying experience, down to price tags on the equipment.
"We recognize that these buyers needed a machine yesterday," Carbaugh says. "We want to be able to have a customer we've never met walk through the door and two hours later walk out with a financed machine on his or her trailer. Everything they need – demo, quoting, financing – is right in this building."
Carolina Cat knows that most of its rental store traffic in the Charlotte location goes through the service area instead of the front door. "We train all of our techs to greet everyone who pulls up within 30 seconds," Carbaugh says. "We have an awesome team here, and the technicians understand the value of customer experience. We tell them to never assume that someone's been greeted. We've had customers tell us that they had three technicians ask if they could help them as they walk in."
Technology
Carolina Cat is seeing customers adopt technology at a faster clip.
"We've tripled the number of connected machines in the past two years, with more than 7,500 connected machines now," says Jason Ritchey, director of digital construction. "And our Cat rental fleet is 100 percent connected."
Telematics is key to fulfilling preventive maintenance agreements, what Caterpillar and dealers now call "Customer Value Agreements," or CVAs.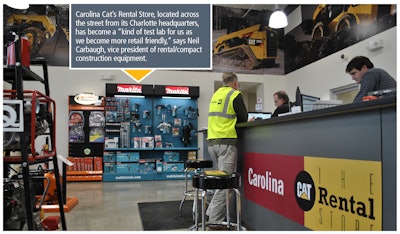 Within Carolina Cat's glassed-in Fleet Management Center, dubbed the "fishbowl," employees on one side of the room focus on getting customers connected and data flowing, Ritchey says. The other side of the room deals with monitoring machine health. "We're
watching our customers' machines out in the field," he says. "If a fault code comes through, we'll work directly with the customer to identify what's going on."
For example, one dozer showed an intermittent engine overheating problem. "It wasn't consistent, but we were watching it," Ritchey says. When an oil sample was pulled, Carolina Cat realized the engine was failing. Caught in time using Condition Monitoring, the customer made a simple engine repair, avoiding costly downtime and an engine replacement.
Another side of technology is GPS machine control. "In the past two years, we've sold several hundred machines with factory-integrated GPS," Ritchey says.
Carolina Cat can take customers from an initial GPS inquiry to field deployment, all in-house. "And as soon as we took this on, our customers said 'more,'" Ritchey relates. "Seven out of 10 of our dozers now go out the door with GPS technology."
What seems to resonate with contractors are the productivity gains they get with GPS – and the fact that their competitors are benefitting from those gains. "From the first time they try 3D machine control, they immediately see the value of it," Ritchey says. "We don't get too many demonstration machines back in the yard."
The dealer's technological capabilities were on full display during its Demo Days event in June, attended by more than 400 people. Carolina Cat showcased 50 machines, including Cat's Next Generation excavators, compact excavators, dozers and graders on a 20-acre site. One enthusiastic attendee, Cody Gilbert with Earnhardt Grading whose Instagram handle is
@officialdirtgang, chronicled the event with drone and GoPro and posted a video that has almost 25,000 views: .
Changing customers
"We recognize our customers are on a continuum," Weisiger says. "Some want a fast, transactional self-service; others value a high-touch relationship experience, and we need to deliver to both of them."
Ten years ago, customers came to their dealer sales rep looking for machine specs, Tropsha says. Now customers research those specs ahead of time. "Today the emphasis is on offering solutions rather than selling products. We're asking what's on their customers' minds, what problems they're trying to solve, how they compete. It's kind of a mind shift, bringing value to customers beyond just buying equipment."
And Carolina Cat knows it can't rest just on being a multigenerational business partner. "The reliance on relationships is shifting, which is actually good because it's putting healthy pressure on all dealers and manufacturers to add true value," Tropsha says.
These efforts are being noticed. Brian McManus, owner and president of Charlotte-based Hoopaugh Grading, told Equipment World he didn't have a specific customer support example "because every action conducted by them supports our company. There is never an issue that is not handled with the big picture in mind."
Alan Goodman, vice president at Preferred Construction Supply, a division of Wayne Brothers in Davidson, North Carolina, agrees. "It's no one person. It's the overall company itself that is stellar. If we are looking at renting or buying a piece of equipment, Mitch [Christenbury, territory sales representative] doesn't try to sell us anything, he helps us buy. He helps us land in a spot that whatever it is, we know it will be a good piece to add to our fleet. If I don't know where to go, he'll bring a subject matter expert in. With rentals, we call over there, and it just happens. They've got what you need essentially all the time."
"Customers are rethinking the role of the machine," Tropsha says. "It's trending toward usership and outcomes over equipment ownership. Customers are now more than ever aware of costs, safety and production, and fleet management is evolving as a science. Customer size does not necessarily dictate success anymore. You can be a small, nimble, cost-aware customer and be extremely successful in this business."
"We're becoming an organization that's more comfortable with change," sums up Weisiger. "Our customers are being driven to do things on budget and on time at a faster pace. We want to be the trusted partner in their success." EQW