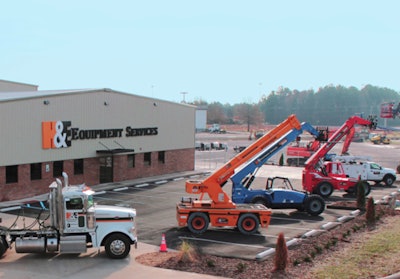 H&E Equipment Services saw revenues increase 9.6 percent to $353 million in the third quarter compared to $322.1 million during the same time period a year ago.
Total equipment revenues for the quarter were $204.1 million an increase of $31.4 million or 18.2 percent. Rental revenues were $184.8 million, an increase of $28.8 million, or 18.4 percent.
"Our third quarter results were solid as we continued to experience broad-based demand for rental equipment throughout our end-user construction markets," says Brad Barber, CEO and president. "Increasing the scale of our rental business continues to be a strategic priority for our business. We expect to achieve this goal through organic growth, acquisitions and warm-start store openings. Based on our current performance, solid level of project activity and our customers' feedback, our market outlook remains positive." The company currently has a 23-state footprint.
On the sales side, new equipment sales decreased by 4.7 percent to $65 million and used equipment sales increased by 2.9 percent to $31.2 million for the quarter.
Based on original equipment cost, average time utilization was 71.4 percent compared to 71 percent a year ago. The size of the company's rental fleet (based on original acquisition cost) increased 12.3 percent from a year ago to $2 billion. Average rental rates increased 2.4 percent compared to a year ago.