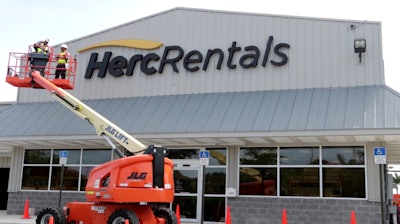 Herc Holdings, parent of HercRentals, says its 3Q equipment rental revenues increased 2.4 percent to $459.6 million, compared to $449 million in the same period last year. Total revenues decreased 1.6 percent to $508.1 million, compared to $516.2 million in 3Q 2018.
Although the company says it had strong year-over-year pricing and mix, these gains were partially offset by "strategic reductions in re-rent revenue."
On the total revenue side, the $8.1 million decline in the quarter was placed at the door of a $14.7 million decline in sales of rental equipment and a $4.2 million reduction in new equipment, parts and supplies compared to the prior year. Those reductions were partially offset by an increase in equipment rental revenue of $10.6 million.
Herc Holdings says it pricing increased 4.5 percent compared to the same period in 2018, representing the 14th consecutive quarter of year-over-year improvement.
Capital expenditures
For the first nine months of 2019, the company spent $349.8 million in net fleet capital expenditures. Gross fleet capital expenditures were $506.7 million and equipment disposals were 156.9 million.
As of Sept. 30, the company's total fleet was approximately $3.94 billion original equipment cost. The average fleet age is now 44 months, compared to about 46 months in the first nine months of 2018.
"Our net fleet capital expenditure guidance is at the top of the range we provided earlier this year," says Larry Silber, president and CEO. "Our expectation for improved operating results and lower year-over-year net fleet capital expenditures in 2019 are expected to generate strong positive free cash flow and improve our net leverage for the full year," he added.
Other numbers for the first nine months of 2019 compared to the same period in 2018:
Equipment rental revenue increases of 2.8 percent.
Total revenue increases of 1.8 percent.
Pricing increase of 4.3 percent