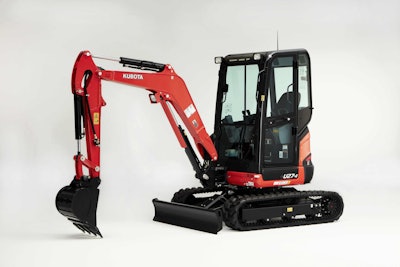 Kubota Tractor Corporation is investing in its procedure for processing warranty claims to benefit its network of 1,100 dealers nationwide.
To do this, Kubota is teaming up with Tavant Technologies, a digital products and solutions company. The firm uses artificial intelligence and machine learning algorithms to help companies improve operational efficiency, productivity, speed and accuracy.
Beginning in early 2019, Kubota will deploy the Tavant Warranty On-Demand (TWOD) platform as its sole application for handling warranty claims and related aftermarket business processes, the manufacturer says.
"The platform will help Kubota enhance its service quality and operational efficiency when processing and tracking warranty claims," a press release says.
Tavant's warranty platform can help automate and self-check claims during processing. The system immediately reduces lead times and accelerates throughput rates. It enables an integrated workflow in which all stakeholders can work toward a common objective to eliminate errors, reduce warranty spend, improve product quality, and enhance end-customer satisfaction, Kubota says.
"We chose to reinvent Kubota's internal warranty process to realize greater transparency and higher efficiency for our dealer network," says Todd Stucke, senior vice president of marketing, product support, and strategic projects for Kubota Tractor Corporation.
"Business processes around warranty claims are part of the services we offer to our stakeholders, and we always want to offer the best products and experiences. This new offering will help Kubota maintain the high level of service and customer satisfaction that is expected from all aspects of our company."
Stucke explains the improved process and why Kubota chose Tavant Technologies:
"Because warranty is a complicated process, with hundreds of system components to track and many IT interdependencies, we chose to work with Tavant because of their knowledge of the manufacturing sector and their in-depth experience in the development and deployment of complex enterprise systems."
Tavant CEO Sarvesh Mahesh noted Tavant's growing warranty management business.
"The TWOD platform grew from our extensive work with several manufacturers across the globe. The warranty process was one of the greatest pain points for our clients, so we developed a sophisticated platform to solve challenges in claims processing, supplier recovery, and customer satisfaction. Working with an industry leader such as Kubota is a rewarding validation of our software and of its clear value-add to aftermarket operations."
Kubota Tractor Corporation, based in Grapevine, Texas, is the U.S. marketer and distributor of Kubota-engineered and manufactured machinery and equipment, including a complete line of tractors of up to 170 gross horsepower, as well as performance-matched implements, compact and utility-class construction equipment, consumer lawn and garden equipment, hay tools and spreaders, commercial turf products and utility vehicles.