Including February's auction results in its March report, The Rouse Equipment Report says "used equipment values for general construction and heavy earthmoving equipment have demonstrated steady improvement and continue to achieve near-peak performance across both categories."
Methodology
Rouse Services tracks used equipment values using two primary methods: collecting prices reported publicly by auction companies, and compiling proprietary used equipment transaction prices reported by its established network of clients – this network includes national, regional and independent rental operations and OEM dealers. Aharonian estimates that 70 percent of the RER Top 100 firms are in this reporting network. In reporting these numbers, Rouse uses the terms Forced Liquidation Value (FLV) for auction prices, and Fair Market Value (FMV) for retail prices.
The report examines the current used equipment market environment, dividing its reporting in three general segments: general construction, heavy construction and other equipment. In addition, it goes into the values of the machine types that make up these segments.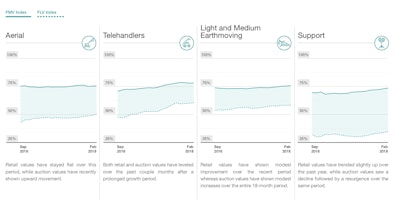 Equipment segments
In the Rouse report, general construction equipment includes:
Aerial lifts
Telehandlers
Light and medium earthmoving (including compact equipment)
Support equipment (including gen sets, light towers, etc.)
Heavy construction equipment includes:
Excavators, 75,000 to 99,999-pounds
Dozers, 180-359 horsepower
Wheel loaders, 190-309 horsepower
Articulated trucks
Motor graders (not broken out in the Equipment Report)
In addition to the above, the Rouse report includes coverage of Other Equipment, which adds two equipment subsets: forklift trucks and truck tractors. And every quarter, the report includes a crane market summary which tracks the orderly liquidation value of six crane types: all-terrain, crawler, rough-terrain, truck-mounted, carry-deck and tower cranes.