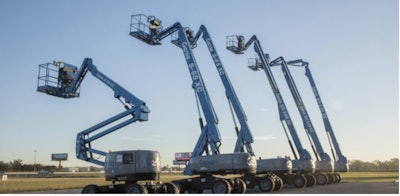 Terex brand Genie has been chosen as the Cat Rental Store 2017 Allied Vendor of the Year.
The award – the first of its kind for the Cat Rental Store – came at the company's 2018 Rental Summit Allied Vendor Fair and Reception, The criteria for the award are quality, product support and policy, ease of doing business and overall vendor satisfaction.
Cat Rental Store is global network of 1429 dealer-owned locations for Caterpillar equipment and specialized tools for jobsites.
"I am very pleased to bestow Genie with the honor of our 2017 Vendor of the Year," says Erica Baird, Global Allied Product Manager, Global Rental & Used Equipment Services, Caterpillar Inc.
"The Cat Rental Stores have distinguished Genie as an exceptional vendor, committed to providing our dealers with quality products and support, to ensure our customers' success from the start to the finish of any project or job. We look forward to growing our long and successful relationship with Genie."
At the end of last year, Caterpillar worked with its dealers to determine the key attributes required to be recognized as the Cat Rental Store's Vendor of the Year. Genie, a global manufacturer of aerial lift equipment, was recognized for its ongoing commitment to provide the highest overall value to Cat Rental Store dealers and, most importantly, to Cat Rental Store customers, Baird says.
"It is a privilege to receive this prestigious recognition from Caterpillar," says Paul Smith, Genie National Accounts Manager, Terex AWP.
"At Genie, we are committed to the success of our customers' businesses, from delivering high-quality aerial lift equipment to our responsive support after the sale. We take great pride in providing Cat Rental Stores the products, services and programs they need to meet the growing and changing needs of their customers."
For more information about Genie products and services, visit genielift.com.