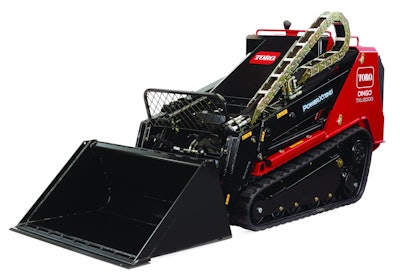 Cat signs on AT&T LTE network for telematics, machine connectivity
Caterpillar and AT&T have signed an agreement that will provide the former's heavy equipment with LTE connectivity.
Announced at the Mobile World Congress in Barcelona, Spain, Cat and AT&T have entered a multi-year deal that will allow Cat machines in 155 countries to network and pass along telematics data via AT&T's 4G LTE network.
To read more, click here.
---
PHOTOS: A tour of Ritchie Bros.' record-breaking 2018 Orlando auction
Earlier this week I shared my coverage from last week's massive Ritchie Bros. auction in Orlando. The 2018 edition of the annual auction was the largest and most successful in Ritchie Bros.' 60-year history. The event featured more than 12,800 trucks and pieces heavy equipment for sale and brought in $278 million.
You can read my full coverage of the record-breaking auction and how technology is blurring the line between online and on-site bidding by clicking here. At the link below, I've put together a gallery of photos I took while driving and walking around the huge event.
To see the gallery, click here.
---
How to adjust CTL track tension (VIDEO)
It's one of the simpler maintenance chores you can do, but adjusting the tension on the tracks of your compact track loader is critically important. If your tracks get too loose, they may spool off the undercarriage and put you in a bind – replacing tracks in the field takes at least two people and often auxiliary equipment. If your tracks are too tight, they can damage the undercarriage and lead to premature wear.
We teamed with Leland Garrison, service technician at Thompson Tractor in Birmingham, Alabama, for a quick lesson on the proper way to tension the tracks on a Cat CTL.
To read more and see the instructional video, click here.
---
800-hp Yenko Silverado is one monster of a limited edition truck
Looking for a new 800-hp Chevy Silverado?
If you move fast enough, you might be able to buy Speciality Vehicle Engineering's all-new 2018 Yenko/SC Silverado Truck, powered by a custom built 6.8-liter supercharged LT-1-based engine. (Videos and additional pictures posted below).
Only 25 of these Limited Edition Yenko/SC Trucks will be built in any factory available color, and all will be based off the 2018 standard cab, short box Z71 Silverado to take advantage of the truck's lighter weight.
To read more, click here.
---
Toro Dingo TXL 2000 will offer 2,000-pound ROC, telescoping loading arms
The Dingo TXL 2000 compact utility loader (CUL) in development by Toro was the talk of the The Rental Show in New Orleans, with attendees eying both the size of the machine and reach of its telescoping loader arms.
Helping to celebrate the 20th anniversary of the Dingo line, the TXL 2000 offers several advantages over the compact track loaders and skid steers it will compete with, says Sean O'Halloran, Toro marketing manager.
"Getting in and out of the cab on a CTL or skid steer can be cumbersome, which leads some operations to use a second person as a spotter," O'Halloran says. "With this machine, you can get on and off the platform easily, so a second person isn't required."
Another advantage is on-platform visibility, compared to the visibility inside a skid steer or CTL cab, O'Halloran says. "On the platform, you're higher and you can easily look around and behind."
To read more, click here.