New survey's key insights:
Net profits — The industry is feeling increasingly positive about net profits. A whopping 92 percent of respondents said their net profits will remain the same or increase over 2017.
Equipment sales —Distributors feel upbeat about the market and expect to see increases in new and used equipment sales.
Equipment rentals — Distributors, rental companies and end users agree that 2018 will be a strong year for equipment rentals.
---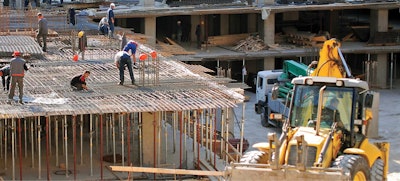 Many contractors and equipment distributors anticipate increases for both residential and nonresidential construction activity for the latter half of 2018 – as well as greater profitability, according to a new survey.
The construction industry executives are more optimistic about nonresidential construction activity than they have been since the 21st Century, according to the nationwide survey released today by Wells Fargo Equipment Finance.
"This is the highest optimism we have recorded in the last 20 years, so that in and of itself is really good news," says John Crum, senior vice president and national sales manager, Construction Group, Wells Fargo Equipment Finance.
"All signs are pointing up" for the rest of this year, according to Crum in an Equipment World interview.
The Construction Industry Forecast calls this "a year of continued optimism," based on answers from 312 executives. But the bullish outlook during this economic expansion is tempered by a lack of workers available, the respondents point out.
"Everybody's optimistic. And almost everybody agrees labor is the No. 1 concern," Crum says.
The survey indicates strong confidence among business owners in the industry and market outlook, with credit readily available. Heavy equipment sales are expected to dramatically increase.
"Most people are expecting more profitability in 2018, and distributors are optimistic about sales," Crum says.
The numbers are just starting to roll in from contractors and dealers for 2017, and the increases last year and trade show activity so far this year bode well for the industry. Sixty-one percent of respondents expect an increase in profitability.
And if what rental business executives reported holds true, it looks as if they are going to increase the size of the rental fleets as they continue to rent more to contractors, Crum says.
Details released Feb. 28, some expect 'best year ever'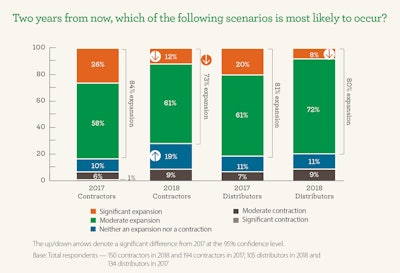 Today, Wells Fargo Equipment Finance officials released results of the survey conducted October 31 through November 27, 2017, and commented on it in a webcast. The 312 responses came from construction industry executives in 44 states. Nearly all have been in the construction industry for five years or more.
The survey's primary benchmark for measuring industry confidence is the Optimism Quotient (OQ).
The OQ for 2018 is highly positive at 133 – a 10-point increase over 2017. An OQ score greater than 100 indicates strong optimism for increased local, non-residential construction activity versus the prior calendar year.
"It's exciting to see this level of optimism. It reflects what we have heard from our customers about the strength of the market," Crum says. "Many industry participants feel that this could be one of their best years ever."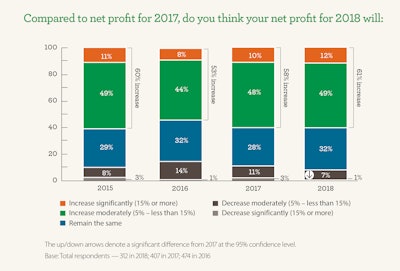 While most distributors and contractors maintain a positive outlook on construction activity and industry expansion, looking out two years, fewer predict the pace of growth will continue at this level, Wells Fargo Equipment Finance officials say.
That doesn't mean the majority feel the industry won't expand. As seen in the chart at the top of this section, 73 percent of contractors said that the most likely scenario in the next two years is expansion, while those who said that the current level of activity will remain static increased to 19 percent, the survey found.
Few in the industry predict that a contraction is likely in the same time span, with only 9 percent of contractors and 9 percent of distributors saying that activity level will be less.
In addition to the top concern of finding and paying for skilled labor, the industry is concerned about the high costs of materials.
To see and download the report, click here.
Equipment sales, purchases, rentals

2017 was a good year for equipment sales, and according to the industry, 2018 could see further improvements.
Seventy-six percent of distributors said that they expect their sales of new equipment to increase, while 78 percent say their sales of used equipment will increase.
On the contractor side, 37 percent indicate that they will buy more new equipment, while 27 percent indicate they will buy more used.
"One key factor to look at in the results is that the percentage of contractors who said they would buy less new and used equipment in 2018 shrunk to the lowest levels in five years," Crum notes.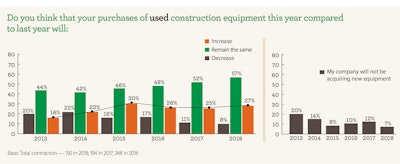 Distributors and rental companies indicated that their rental fleets will increase in 2018 over 2017, with 55 percent indicating their intention to expand. Notably, only 7 percent say they will decrease the size of their fleets.
While some contractors feel their fleet sizes are in balance and at a good equilibrium, those who choose to increase their fleet sizes indicate a willingness to supplement with rentals.
A caveat: the responses showed that even small increases in rental prices would encourage end users to buy equipment instead of renting it. Respondents indicated that an increase in rental costs of 5 to 15 percent would make 63 percent of those surveyed consider purchasing equipment rather than renting.
"That such a small increase in rental costs would make companies who rent equipment consider buying instead of renting indicates that the industry is at equilibrium between availability and pricing of rental equipment," says Crum.
More distributors plan to increase the size of their rental fleets over 2017, and these same distributors are renting to contractors more than the prior year.
Flexibility remains a key element driving rental behavior. End users like the ability to return equipment at any time. The wide variety and ready availability of rental equipment also gives them confidence that equipment will be there when they need it, according to the report.
What's behind the optimism in equipment sales and rentals?
Based on what customers tell them, Crum attributes the top factor to pent-up demand. And during the time the survey was taken, "people were very, very optimistic about tax reform coming," he tells Equipment World.
"Since there's been tax reform, we hear the same level of optimism. Generally, people are feeling like there's going to be a better, stronger economy, partly as a result of tax reform.
"Our customers tell us there seems to be a more favorable regulatory environment – and not necessarily that the regulations are changing or that anything is easier, but the overall willingness to approve projects and get projects on the board from start to finish, seems to be more favorable for them."
By the numbers: labor shortage tops concerns
Finding and paying for skilled labor and healthcare costs remain top concerns that will have a potential impact on net profits.
Employee wages and other benefits (31 percent), and healthcare costs (18 percent), ranked as contractors' top cost concerns.
Meanwhile, concerns over equipment costs (20 percent) and equipment rental costs (20 percent) remained top of mind for distributors.
One in two respondents said that they are aware of pending changes to the accounting rules for leasing, with about 50 percent anticipating somewhat of an impact or even a great deal of impact on their business; about 20 percent expect no impact at all.
Fewer respondents, just over a third, are somewhat or very concerned about the effect new regulations will have on their business while 28 percent express no concern at all, the survey found.
What is the Optimism Quotient?
An "Optimism Quotient (OQ)" presented by Wells Fargo Equipment Finance is the survey's primary metric for assessing respondents' sentiment about local nonresidential construction activity. The measurement indicates industry executives' optimism about the coming year compared to the previous year.
"As we think about the Optimism Quotient, it really is akin to a confidence index" in terms of usefulness to the industry, Crum explains.
This year, the Construction Industry Forecast analyzed and compared the data to four other economic indices for the construction industry outlook, including the Architectural Billings Index, the Private Construction Index, the Industrial Production Index and the Nonresidential Construction Index.
Although there are differences in any given year, the overall data shows that the Optimism Quotient tracks closely with these economic indices, Crum says.
An OQ score of 100 or more represents strong optimism for increased local construction activity relative to the perceived level of activity for the prior calendar year.
A score of 75 to 99 represents more cautious or measured optimism. A score below 75 signals a more pessimistic view – that fewer executives say local construction activity will increase than say it will decrease.
Optimism in the Midwest is on par with 2017, while every other U.S. region reports noticeable gains in optimism, the respondents say.
"The industry remains increasingly positive with respondents from the South feeling the most optimistic," the report says. "Survey respondents across the U.S. expressed agreement that construction activity in their local areas will likely increase."
---
Editor's note: The margin of error for this survey is 5.5 percent (a 95 percent confidence level). Percentages in this report may not add up to 100 percent due to rounding.