Carter Machinery Company, Inc., is now the authorized GOMACO distributor for the state of Virginia.
The multi-branch dealership will provide sales and service for GOMACO's full line of concrete construction products.
Carter Machinery and GOMACO share the same corporate values, according to Kent Godbersen, vice president of Worldwide Sales and Marketing for GOMACO Corporation.
"They continually invest in their infrastructure and technology, as well as their employees," Godberson says, noting the dealership's long history in Virginia of providing service and support to customers.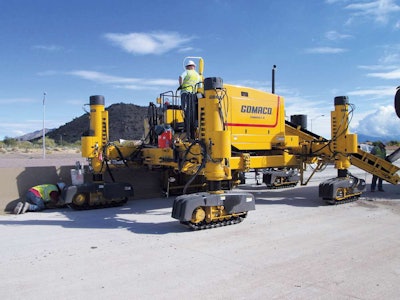 "With their 20 branch locations, we are confident they will provide GOMACO customers sales, service and parts support they can depend on and we welcome them to our GOMACO distributor network," he says.
Carter Machinery's corporate headquarters is located at 1330 Lynchburg Turnpike, Salem, Virginia, 24153. The phone number is 540-387-1111.
The dealership, founded in 1952 in Roanoke, Virginia,, also has several locations in southern West Virginia that are not included in the announcement.
Vinnie Miller is GOMACO's district manager for Virginia.
GOMACO Corporation is headquartered in Ida Grove, Iowa. GOMACO equipment will slipform concrete streets and highways, airport runways, curb and gutter, sidewalks and recreational trails, safety barrier, bridge parapet, and irrigation canals.
Support equipment includes grade trimmers, concrete placers, concrete placer/spreaders, and texturing and curing machines. The company also offers equipment to finish flat slabs, bridges, and slopes.