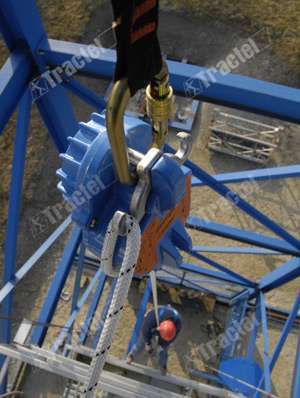 Tractel, a global provider of working-at-heights and safety products and solutions, has agreed to buy Scanclimber Oy, the Finnish provider of mast-climbing work platforms.
Terms of the acquisition were not disclosed.
Tractel, based in France, designs, manufactures, markets and rents lifting and handling material, load measurement devices, temporary and permanent access solutions, and also OSHA-compliant safety equipment that helps arrest falls.
Scanclimber supplies rack and pinion vertical access products to more than 250 clients in Europe, North America and Asia, the company says. With 225 employees, it runs a production facility in Poland and sells its products through a network of distributors and sales agents globally.
"Scanclimber represents a strategic and synergistic move for Tractel," says Tractel's new CEO, Philippe Gastineau.
"The transaction offers the opportunity for Tractel to grow in the attractive mast-climbing work platforms and the rack and pinion hoists segments," he says, noting it will also greatly increase the Tractel Group's presence in the Nordics.
"We are looking forward to working with Eerik Nousiainen (CEO) and the rest of the Scanclimber management to integrate the company within Tractel and build on each other's strengths."
The acquisition comes amid an industry trend for these kinds of mast-climbing work platform products to be increasingly used as an alternative to traditional scaffolding and as construction methods increasingly take into account workers' health and safety, the companies say.
Tractel's product offerings include equipment for lifting and handling, such as hand-operated lifting and pulling equipment, motorized lifting and pulling equipment, floor-handling equipment, load arrester equipment, accessories and customized solutions.
The company also provides load measurement and control devices: load link dynamometers, crane scales, tensiometers, mechanical load limiters, electronics load limiters, anchor testers, displays and also accessories.
Since acquiring Tractel in October 2015, the international private equity firm Cinven has bought Safety Products Group, Knot, and now, Scanclimber.
These purchases have broadened Tractel's safety product offerings and augmented the Tractel Group's presence in the United States, the company says.