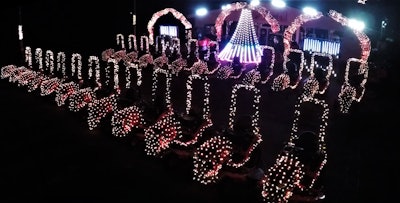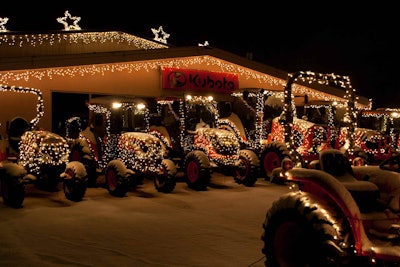 It's the fifth year of Neil Messick's equipment dealership throwing a wildly popular holiday Christmas Light Show in Elizabethtown, Pennsylvania.
The animated display is choreographed to holiday music. This year, 30 pieces of equipment are wrapped in Christmas lights and the show is bigger and better than ever, Messick says.
"Any kid obviously loves it, I mean tractors plus Christmas lights and all that stuff is just a huge hit. We typically will get between 200 and 300 cars a night, and each one of those cars is usually packed full of somebody's family. So it's a really significant number of people."
As Christmas nears, he's been talking with Equipment World about the rewards and challenges of putting on such big holidays shows. Messick, whose family sells both farm and construction equipment, says he wants other dealers to know that the biggest payoff comes from being involved in your community.
In the 1950s, his grandfather began the family-owned dealership here in Elizabethtown Borough. Messick's is now in its 65th year with four other locations in Pennsylvania.
With the patrons giving free will donations, the holiday show has raised $122,400 in the past four years for local charities, including Paxton Street Ministries, Water Street Rescue Mission, Mennonite Disaster Service, Elizabethtown Community Cupboard and others. The money this year is still coming in, through month's end.
"The charitable aspect is always what really impresses us – the willingness of people to give money, and the support it's been for a lot of our town's smaller charities that may not have big fundraising efforts," Messick says. "We're really able to help out in a significant way."
Generating goodwill, building morale
The Christmas light show has helped shape this dealership's image, externally as well as internally.
"It's made a surprising impact in people's awareness of us and their perception of us," Messick says. "And it's a just a real morale boost for our employees to be part of a company that's seen doing this."
The show is at the flagship store in Elizabethtown, 21 miles southeast of Harrisburg.
"Our store is situated right along a major highway, and we've put Christmas lights on tractors for probably 20 years," Messick says. "Five years ago, we had bought animation controllers and we did bales coming out of the back of balers and stuff, and we decided to choreograph one show to music. Our whole town showed up," he says.
The annual event quickly became a big deal in this community of 11,545 residents in south-central Pennsylvania.
"We started collecting money for charities, and we collected 40-some thousand dollars last year. It keeps getting bigger and more people keep coming. We've created a bit of a monster," he says with a laugh.
Running the show
"We run every night, snow or sleet, because everybody just stays in their vehicle," Messick says.
The free show is open from 6 p.m. to 9:30 p.m., December 1-30. Monday through Thursday evening shows feature five songs, while shows Friday through Sunday feature only four songs each to help prevent long wait times on the busiest nights.
His employees volunteer to come in each evening to help direct traffic and park vehicles on two levels.
As cars, trucks and even buses pull up in the driveway, the volunteers distribute brochures explaining that 100 percent of the donations are given to local charities, which are named, along with directions about parking and tuning radios to 95.5 FM. To broadcast music, his family uses a short-range transmitter bought on eBay and a blank spot they found on the dial between regular radio stations.
Now, they've run into a wall, of sorts, because the most cars they can get through in a night is 250 to 300. The shows runs in batches, with only so many cars able to enter at any one time.
"We can really only put about 30 cars into each show, and so we've hit our limit. Unless we find ways to get more people through, we simply can't collect more money."
The drive to keep going
It takes about 300 to 350 hours to put together the show. The work begins each November, when there's a lull in business, so that allows Messick to pull two mechanics from the shop to help set up. He manages the IT side of the company and uses that expertise for the computerized animation.
His younger brother, Lucas Messick, plays French horn in an orchestra and uses his musical inclination to synchronize lights to music. Lucas and another brother, Kevin, do the programming, sequencing at each point in a song what lights should turn on or off.
"They'll take the headlights of a tractor, and move them from tractor to tractor, to follow the progression of notes because they can hear and pickup and recreate that kind of stuff pretty easily," Neil Messick says.
It costs the dealership $10,000 to $15,000 to put on the show each year, counting the hours spent working, along with animation and computer hardware, lights and more. Lights have to be replaced every second or third season.
"I hit every box store after Christmas and basically clean out their whole inventory. I hit Walmart right one year, on Janunary 2, and everything was 90 percent off, so I bought two skids of Christmas lights," he says, with another laugh. Neil Messick laughs often, in a jolly way, but he also feels the strain this time of year.
At first, it was a ball putting on the shows, but not so much anymore, he says. The turnout, attention and fundraising keep the family going. It's difficult to put a dollar value on the benefits to the business, he says, because they include intangible payoffs.
"The effort of putting the thing together is not fun at this point," he says. "It is a lot of work. But we absolutely wouldn't stop it. There's just too many positives that come from it."