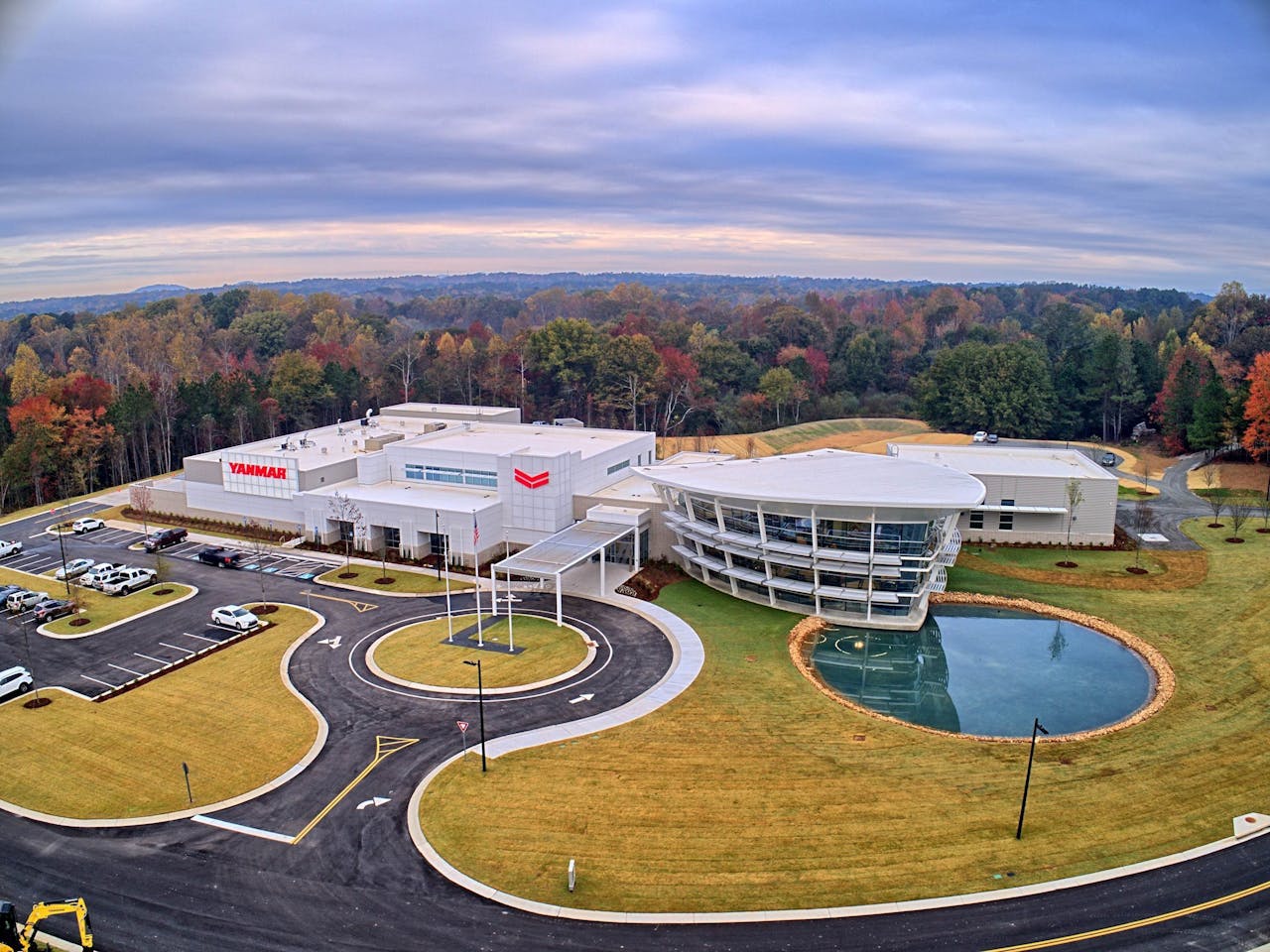 Two years ago, the Yanmar corporate office started to re-examine its brand with this question in mind:
Does everyone know who Yanmar is?
When it came to North America, the answer was, sort of.
Its marine motors are well-known among recreational boaters, but its construction equipment, tractors and myriad other products don't share the same brand recognition as they do in other parts of the world. Sometimes company reps find themselves explaining that the 105-year-old company has 20,000 employees worldwide and is headquartered in Osaka, Japan. It invented the world's first compact diesel engine in 1933, and over the years, the company's engines have been used in construction and agricultural equipment made by large OEMs. It also manufactures compact wheel and track loaders, skid steers and compact excavators.
So the company's North American subsidiary, headquartered in Adairsville, Georgia, began to plan a way to spread the word on the full extent of the Yanmar brand. The first thought was to expand training for its dealers, to help educate them on the company's expertise.
"The best thing we could do is really have our dealers embody what we're about, teach them the things that we think are important to the market and work with them to be doing those things in the market," Yanmar America President Tim Fernandez says.
So, the idea was to build a technical center to provide that training and support. But during a company retreat over several days, the ideas kept coming.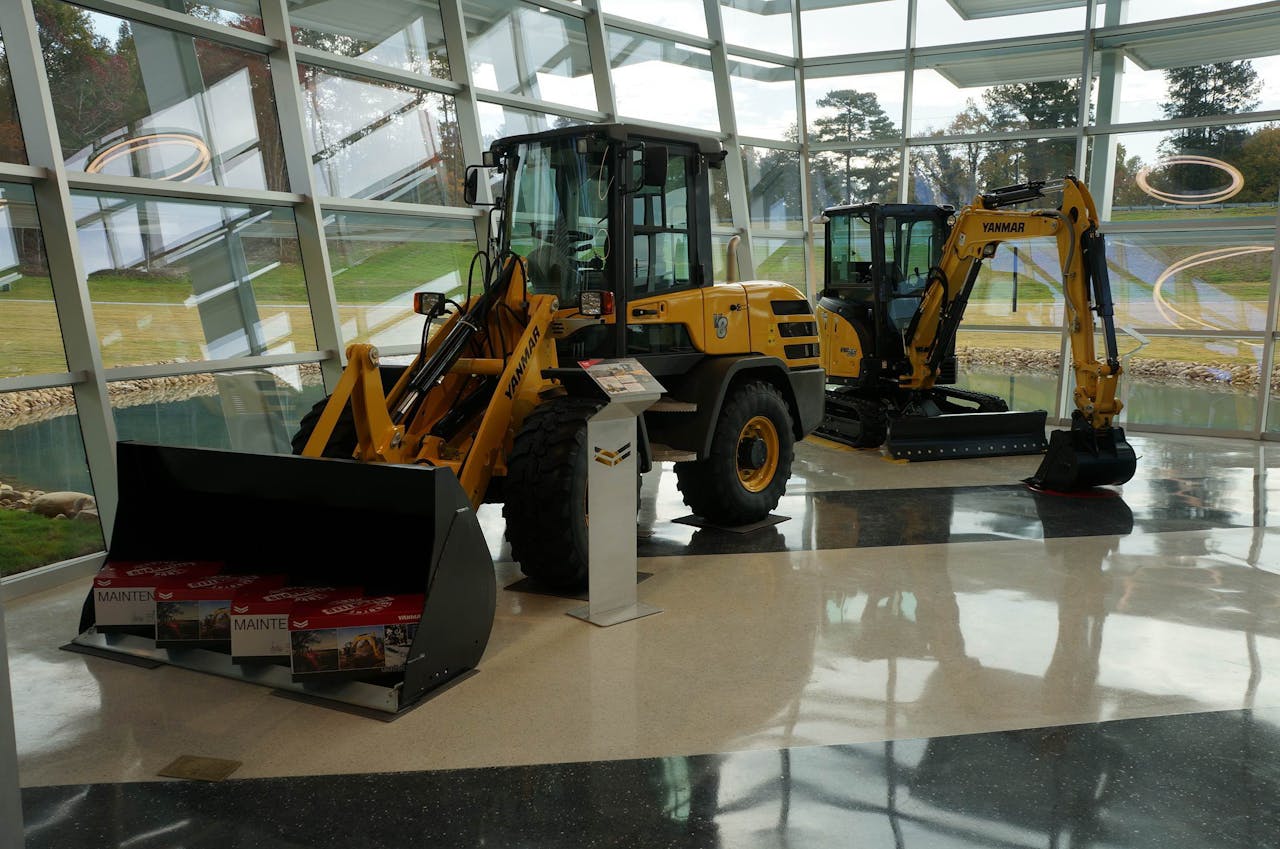 The result of all that brainstorming came to fruition November 3 when the company officially opened its new training complex. Set among a wooded backdrop displaying all the colors of fall, the new glass-encased Yanmar Evo Center near Acworth, Georgia, not only offers six training rooms dedicated to each of the company's product lines, but the building contains a showroom of new products, a company history display, a gift shop, equipment demonstration fields, classrooms, a catering kitchen, dining area, a 250-seat auditorium.
And the ideas keep coming.
"There are so many things we want to do here that we've never done before, and this will give us that opportunity," Fernandez says. "We're not looking to be just your typical engine or product company. Our goal is to create unique opportunities for our customers."
The company has already been reaching out to nearby colleges for setting up training programs at the center. It also plans to open the facility for community events, possibly even farmers markets.
Fernandez foresees corporations using the center for team building retreats. Rather than ropes courses, they could spend time on the company's products, excavating holes, plowing a field on its tractors and driving its UTVs.
Fernandez believes such creative ideas will also benefit dealers and help them find new ways to develop long-term customer relationships.
"We want to provide the unique opportunities that they may not be thinking about," he says. "…We want to show them there are other ways to engage with the community and other ways to attract customers for life."
To help its dealers, the Yanmar Academy will be held at the Evo Center. It will feature training for dealer technicians. Each training room includes desks and video screens for instruction. Behind the instruction areas, products are available to demonstrate the lessons and offer hands-on learning. The equipment can be run within the bays, with exhaust hoses connected to them to expel emissions.
Along with technical training, the center will offer dealer courses in parts management, service management, finance, marketing and sales. And the company will develop training and courses at dealers' requests, such as leadership programs and computer instruction, Fernandez says. Manufacturers that buy Yanmar engines and other products can also use the center and take courses.
The focal point of the new 50,000-square-foot center is its glass showroom, designed to look like the front of a ship that is "pointing toward progress," says Fernandez.
On November 3, company executives from the corporate headquarters in Japan, along with local and state dignitaries, came to view the new center and cut the ceremonial ribbon. Georgia Governor Nathan Deal was on hand for the ceremony.
Deal said the center "is going to be a part of the future of not only this part of the state of Georgia but for our state as a whole."
He added, "And I look forward to seeing more of your dealerships sprinkled around our state."
The company agreed with that sentiment, as it hopes to recruit more North American dealers to sell its compact excavators, skid steers and wheel loaders, as well as its other products, which include agricultural equipment, UTVs, diesel engines, heat and power systems, and variable refrigerant flow systems.
"This is a great place to bring in new dealers and show them who we are," Fernandez says.
The 53-acre site also has plenty of room for expansion, and Fernandez predicts future growth.
"As we grow our business, we'll need to expand locations," he says. "And if there's an opportunity to move other people here in the future and build a new facility, we will."