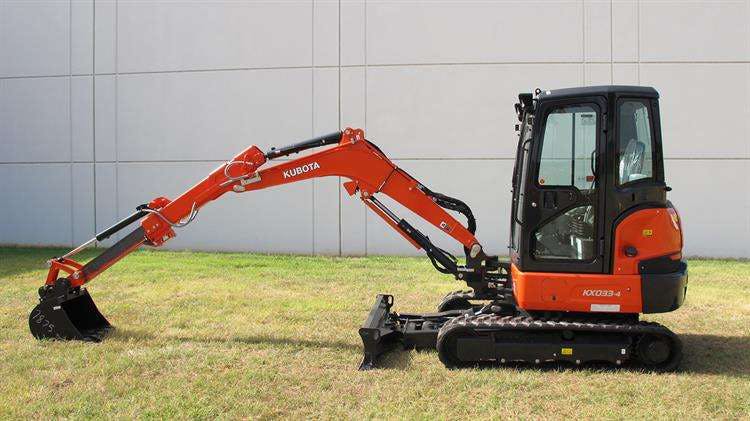 Dealers got a hands-on preview of Kubota's two new compact excavators, available in early 2018, as well as the company's fastest gas-powered RTV yet and seven new tractors in the M Series lineup.
About 1,100 dealers attending Kubota's annual meeting October 21-25 in Phoenix, Arizona, saw the KX033-4 with extendable dipper arm along with the U27-4, which will replace the U25S.
"Final production models of these two excavators were presented at the meeting and made available for dealers to look under the hood, operate and ask detailed questions," says Jeff Jacobsmeyer, Kubota product manager of excavators, wheel loaders, TLBs.
Kubota KX033-4 with extendable dipper arm
The extendable dipper arm is a new configuration to the existing KX033-4 compact excavator within Kubota's KX Series, which was introduced last January.
The dipper arm can dig as deep as 12 feet, 2 inches and reach up to 18 feet, 2 inches. This model will be in dealerships by January 2018, the company says.
Kubota U27-4 Minimum tail swing
Kubota's new U27-4 features tight tail-swing design, adjustable auxiliary flow hydraulics, an auxiliary diverter valve, two-speed automatic downshift travel, as well as best-in-class reach and dig depth. With one of the largest operator stations in its class, an enclosed cab option with heat is also available. The U27-4 is scheduled to be available at dealerships in the first quarter of 2018.
Kubota's fastest gas-powered RTV yet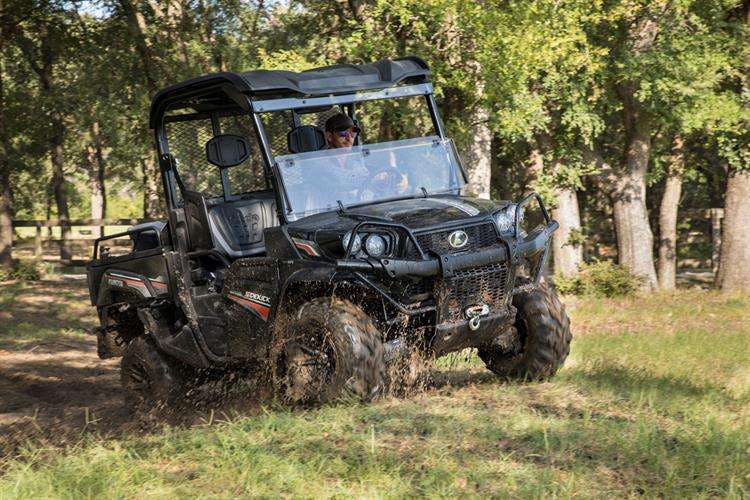 The multi-use Sidekick RTV-XG850 brings speed to Kubota's durable work machines, with a 48-horsepower gasoline engine that can quickly reach 40 mph.
"With this kind of speed and versatility, Kubota customers can confidently get more work done in less time and take on every big hill and distant destination with ease," says Roger Gifford, Kubota product manager, utility vehicles.
The RTV has a continuously variable transmission with centrifugal clutch (CVT Plus), along with a water-cooled engine delivering enough torque for a quick, smooth takeoff, the company says. The Idle Speed Control (ISC) and highland correction are designed to provide stable power in a variety of situations.
The Sidekick is designed to handle a wide range of hauling jobs, from gear and supplies to tools and materials. It can carry up to 15.2 cubic feet or half a ton (1,000 pounds/600 pounds California models) in a steel cargo box with optional electric hydraulic lift for dumping. It comes equipped with a standard hitch and provides 2,000 pounds of towing capacity on level terrain and 1,550 pounds on inclines.
The Sidekick boasts an ergonomic digital panel, steering wheel and shift knob; LED headlights and other convenience features.
Available in Spring 2018, it comes in Kubota Orange, RealTree AP Camo and additional new colors, green and black. A full line of new attachments and accessories will be available, including a premium audio system, sports roof or bed extender to carry more cargo.
Six new speciality tractors
Kubota Tractor Corporation announced six new specialty ag tractors designed for narrow, low-profile and high-clearance applications. They're available now at Kubota dealerships.
The M Series lineup now includes the M4N-071 ROPS, M5N-091 ROPS and M5N-111 ROPS narrow tractors; the M5N-091PK Power Krawler tractor; the M6L-111 low-profile tractor; and the M6H-101 high-clearance tractor.
"We introduced the newly upgraded M4 and M5 narrow tractors just six months ago, and today we are adding open platform ROPS (rollover protective structure) models and a Power Krawler track to this line, giving customers more options to consider at the dealership," said Tyler Pittson, Kubota utility tractors product manager, at the dealers' national meeting.
"The new ROPS models offer an open platform design for added comfort, and the new M5N-091 Power Krawler delivers increased hydraulic capacity and even more durable frame for the stable, sure-footed climb that only tracks can provide."
The specialty tractors feature Kubota V-3800-Tier 4 engines, revamped operator stations, improved hydraulics and versatile transmissions. The M5N-091 PK continues Kubota's crawler design with track upgrades.
The M6L-111 low-profile tractor, first engineered for work in tree fruit and nut orchards, features a folding ROPS, enhanced hydraulic capacity and a Kubota powertrain that performs over a wide range of commercial agriculture applications requiring power in low-clearance spaces, such as poultry and livestock facilities.
The M6H-101 high-clearance models deliver the same M Series power in the high-clearance design required for strawberries, vegetable and other specialty agricultural environments.
Kubota Tractor Corporation adds open-station model
In addition, Kubota introduced a new open-station model that expands its M6S Series introduced last spring.
The M6S-111 ROPS model diesel tractor has a lower price point than its cabbed counterparts and is suited for cattle and hay operations, loader work and mowing. It's geared for small- to medium-size farms.