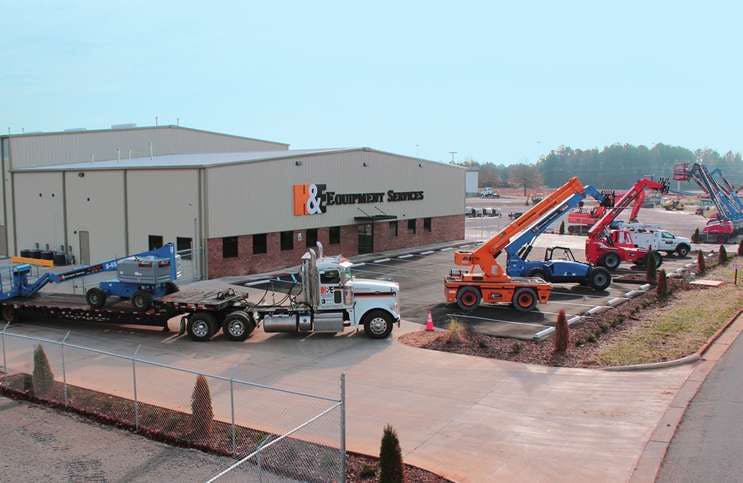 Baton Rouge-based H&E Equipment Services saw second quarter revenues increase 3 percent over the same quarter in 2016 at $249.4 million, with a 32 percent increase in net income to $9.9 million.
Revenues were led by an 8.9 percent increase in rental revenue for the quarter, reaching $118.4 million compared to $108.7 in 2016. H&E's original acquisition cost of its rental fleet at the end of the quarter grew $73.8 million to $1.4 billion.
Used equipment sales increased slightly, rising 1.4 percent to $24.1 million. New equipment sales, however, dropped 8.5% to $45.7 million in the second quarter, compared to $49.9 million in 2016.
"Demand in the non-residential construction markets we serve was strong during the second quarter and as a result, rental revenues increased 8.9%, physical utilization increased 210 basis points, and rental gross margins increased to 47.6%," says CEO John Engquist. "We also achieved a 0.3% positive increase in rental rates compared to a year ago and compared to the first quarter of this year. We were very pleased to see positive rates this early in the year."
The company's overall gross profit increased 6.9 percent to $87.3 million, with a gross margin of 35 percent compared to 33.8 percent for the same period in 2016. Rental gross margin increased slightly to 47.6 percent, as rental rates were basically flat at 0.3 percent higher than the same period last year. H&E says time utilization based on original equipment costs was 72.2 percent (70.1 percent in 2016), and time utilization based on units available for rent was 69.9 percent (67.5 percent last year).
While new equipment sales were down, gross margins were up slightly, increasing to 11.4 percent compared to 10.7 percent in the same period last year. Used equipment sales gross margins were up slightly at 29.5 percent. Parts gross margins dropped slightly to 27.2 percent, compared to 27.9 percent in 2016, and service revenues gross margins were up, reaching 66.7 percent (64.7 percent in 2016).
"As we move into the second half of the year, we believe the trends in our business and the optimism in our end-user markets remain positive," Engquist says. "We are also extremely excited about our pending acquisition of Neff Corporation, which we expect will significantly penetrate and grow our business in strategic business segments."
H&E announced in July it plans to purchase Neff Corporation for about $1.2 billion in a merger move that will almost double the amount of branches for the company.