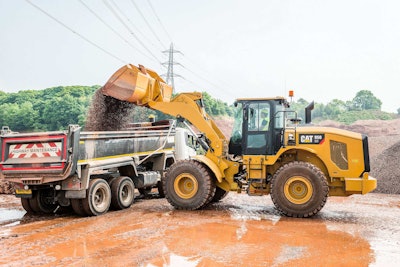 Caterpillar's second quarter 2017 sales and revenues increased by 9.5 percent compared to 2016, reaching $11.3 billion. In response the company released an improved outlook for the remainder of the year.
"Our team delivered an impressive quarter. As demand increased, we continued to control costs and generated higher profit margins," says CEO Jim Umpleby regarding the company's financial details released July 25. "While a number of our end markets remain challenged, construction in China and gas compression in North America were highlights in the quarter. Mining and oil-related activities have come off of recent lows, and we are seeing improving demand for construction in most regions."
Cat reports profit per share of $1.35, compared to $0.93 for the second quarter of 2016, and an adjusted profit per share of $1.49, compared to $1.09 last year.
Construction Industries sales and revenue increased by $504 million in the second quarter compared to 2016, reaching $4.9 billion, followed by growth in Resource Industries of $302 million to $1.7 billion and Energy & Transportation by $191 million to $3.9 billion.
Construction Industries operating profit grew by 64 percent year-over-year to $901 million. Energy & Transportation grew by 16 percent to $700 million.
Geographically, the Asia/Pacific region lead the way in sales for Construction Industries, increasing 44 percent in the second quarter this year to $1.3 billion. This was followed by Latin America with 31 percent growth to $364 million. Cat reports the Asia/Pacific region was led by excavator sales in China, with significant growth coming in 10 ton and above machines.
North America sales grew 3 percent to $2.3 billion.
"In North America, an increase in end-user demand and favorable price realization was mostly offset by an unfavorable impact from changes in dealer inventories," the company reports. "End-user demand was higher primarily due to improved residential and non-residential building construction activity, slightly offset by lower sales for infrastructure construction equipment. The unfavorable impact of changes in dealer inventories resulted from a more significant decrease in dealer inventories in the second quarter of 2017 than in the second quarter of 2016."
Cat says dealer machine and engine inventories dropped by roughly $300 million in the second quarter this year, compared to a drop of approximately $400 million in the same period last year. Dealer inventories decreased by roughly $100 million for the first six months of both years, the company adds.
The full-year outlook of sales and revenues is now forecast at a midpoint of $43 billion, a nearly 9 percent increase from the previous midpoint outlook of $39.5 billion. However, the company reports it foresees potential weak sales in the Middle East and Latin America in addition to "geopolitical and commodity risk."
Cat forecasts Construction Industries full-year sales and revenues to grow 10-15 percent, with Resource Industries growing 20-25 percent and Energy & Transportation increasing by 5-10 percent.
Profit per share is forecast at $3.50, which is 67 percent higher than the previous outlook, with an adjusted profit per share of $5, compared to the earlier forecast of $3.75. Cat reports the adjusted profit per share is calculated without restructuring costs ($1.2 billion) and a gain on the sale of equity investment in IronPlanet.
Umpleby says the company's recent track record gives them the optimism in raising the full year outlook. "We remain focused on serving our customers, delivering strong operational performance and executing our ongoing restructuring activities," he adds.
The company, he explains, could be in acquisition mode during the second half of the year, but did not provide specifics and only indicated these investments could focus on machine technology in connecting more machines, up to 100,000 more by the end of the year, digital capabilities including e-distribution channels and the more broadly the company's "future competitiveness."
"We intend to do this without adding to the structural costs we've worked so hard to streamline," Umpleby explains. "These investments will prepare us to take advantage of the growth opportunities ahead."