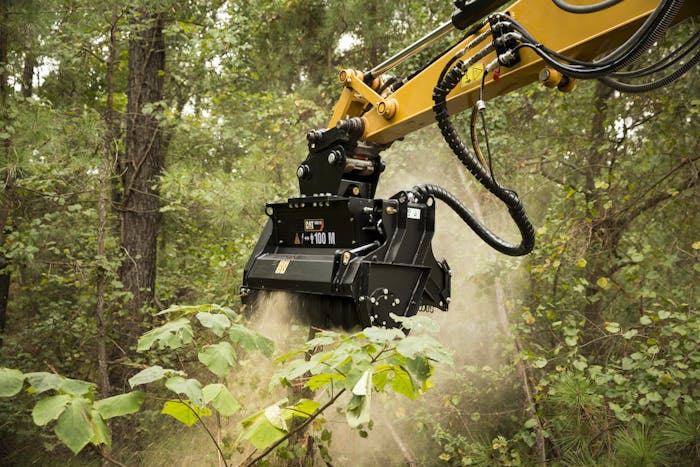 Ford announced two recalls today for certain late-model F-150, Explorer and Super Duty vehicles due to seating and door handle cover defects.
The first recall affects roughly 2,500 2017 F-150, Super Duty and Explorer vehicles which may have an inadequate weld between the driver seat back and the manually operated seat back recliner mechanism.
In the affected vehicles, Ford says a driver seat back frame that has been improperly welded may fail to comply with certain federal motor vehicle safety standards, and may not adequately restrain an occupant in a crash, increasing the risk of injury.
Trelleborg Wheel Systems is bringing the company's lineup of pneumatic tires designed for a wide range of construction equipment to North America.
The debut includes the Earthmover Radial Series (ERL) for loaders and graders, the Earthmover Diagonal System (EM) for heavy duty earthmoving jobs, the Skid Steer Diagonal Series (SK) for skid steer loaders and the Backhoe Diagonal Series (TI) for most construction vehicles.
"We're trying to cover the entire operation of the construction company now," says Ray McElroy, pneumatic segment manager with Trelleborg. "Our pneumatics let us reach the companies that are running the most popular sizes of construction equipment. Furthermore, these tires have already been successful around the world. We're just now bringing them into North America."
New attachments from Deere, Bobcat, Doosan, Virnig, Caterpillar, Kubota, Geith Grapple, Seppi Midisoil.
Ditch Witch has introduced an all new JT40 horizontal directional drill (HDD) boasting an operator's station improved with machine data views.
"The JT40 represents the future of horizontal drilling," says Seth Matthesen, Ditch Witch's senior product manager for HDDs. "The unit integrates machine data into an innovative display to keep operators informed and productive on the job. As with all of our products, we continue to seek customer feedback to improve uptime, profitability and performance, and this machine features several new pending patents to do exactly that."
The new machine features two 7-inch LED displays that keep operators informed on "all critical machine functions and operations," Ditch Witch says. Integrated into these displays is tracker information for visibility into all jobsite functions beyond drill operation.
The 55SA-TELE extendable trailer from Talbert Manufacturing can haul everything from bridge beams to pressure vessels and then be retracted to eliminate the need for permits on return trips.
The 55-ton trailer comes with a 90-inch swing radius that can be extended to 114 inches with a gooseneck extension. The trailer can be set up as a four-axle close coupled, 2+2 spread axle or 3+1 spread axle configuration, and the third and fourth axles can be flipped or removed. A 24-inch pinned and hinged gooseneck extension can also be flipped. Ultimately, the deck can be shortened from 54 feet to 32 feet 6 inches for an overall trailer length of 53 feet, which is within the permit limit.
The trailer expands and locks in four increments. Beams stretch between a 29-foot wooden deck in the front and a 3-foot Apitong platform in the back. An ENitro nitrogen assisted dampening system provides proportional weight distribution in each axle grouping, the company says.