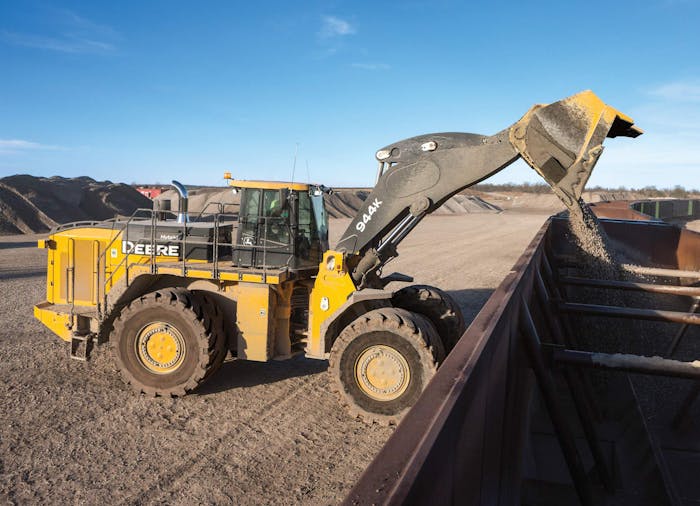 Manitou has launched several new compact machines as of late among which are duos of new articulated loader and compact excavator models for the company's Gehl and Mustang machine lineups.
We'll start with the company's new articulated loaders. We got a preview of these machines last year at the bauma show in Germany. But now that they've made their North American debut, Manitou has shared a few more details. The company has also announced the launch of a pair of telescopic models under the Gehl brand.
The new 608/708 articulated loaders from Mustang and 650/750 models under the Gehl lineup are Manitou's largest articulated loaders to date and are powered by a 65-horsepower Yanmar engine in the 600 models, and a 75-hp Duetz engine in the 700 models.
Kenworth has added an all-wheel drive configuration to its T880.
The front drive axle is installed at the Kenworth factory, which Kenworth Marketing Director Kurt Swihart says speeds delivery time and saves costs.
"We see our all-wheel drive T880 being used in oil fields, configured as an off-road crane, in utility and construction work, or used with municipalities and fire/rescue," he adds.
The new D-Series Screener Crusher Bucket attachment from ALLU can take waste from the construction site and create recyclable material in one step.
The bucket can screen, crush, aerate, mix, separate, feed and load materials such as construction and demolition waste, excavated dirt, milled asphalt and a variety of other materials, wet or dry.
ALLU makes more than 100 models of the bucket to fit any wheel loader, excavator, skid steer and backhoe, the company says. The buckets have changeable wear hammers for universal and specific applications, such as screening and aerating compost. The machine can screen and crush 0.6-inch to 6-inch dry or wet material fragments.
Barko's B-Series Industrial Wheel Tractors are designed to send more power to mulching heads and other attachments for land-clearing and various large municipal and commercial applications.
The company recently introduced two new models in the series, the 937B and 930B. The 937B has a 380-horsepower Cummins Tier 4 Final diesel engine with selective catalytic aftertreatment. The 930B runs on a 320-horsepower engine. Both models' fuel tanks hold 127 gallons for longer operation. They also come with high-capacity anti-clog radiators with auto-reversing fan.
Their hydraulic systems automatically adjust attachment performance to the job, Barko says. The 937B can pump 113 gpm of hydraulic fluid at 5,500 psi, and the 930B pumps at 91 gpm and 5,000 psi. A high-capacity air cooler, along with variable-displacement piston pumps, cool the hydraulic fuel.
John Deere has introduced a 20,000-hour/96-month (eight years) warranty on the power electronic components of its 944K hybrid wheel loader.
Deere says the warranty is retroactive to existing machines in the field and will be provided with all 944K loaders purchased through October 31, 2018.
The warranty covers wheel motors, generators, power inverters and brake retarders on these hybrid loaders for eight years or 20,000 hours, whichever comes first. The warranty does require certain customer conditions be met however, including component rotation and drive voltage cables replacement between 15,000 and 18,000 hours, and an annual dealer machine inspection.