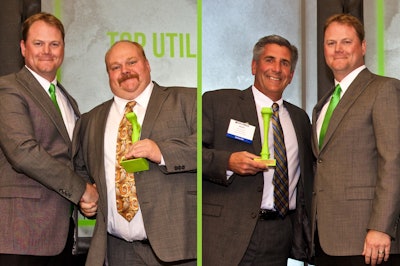 Subsite Electronics presented its 2017 Top Salesman Awards to Brent Goodman of Ditch Witch of Georgia (Top HDD Guidance System Salesman) and Troy Kynaston of Ditch Witch of the Rockies (Top Utility Locator Sales) during the recent annual Ditch Witch Sales Conference.
"These awards recognize the outstanding efforts of Brent and Troy," says John Lamerton, Global Sales Manager for Subsite Electronics. "Both are passionate about meeting their customers' needs and were able to demonstrate Subsite solutions that will help their customers operate more efficiently and safely on the job site."
Both dealerships have three locations each and carry the full line of Ditch Witch equipment, as well as Subsite Electronics utility locators and HDD guidance systems.