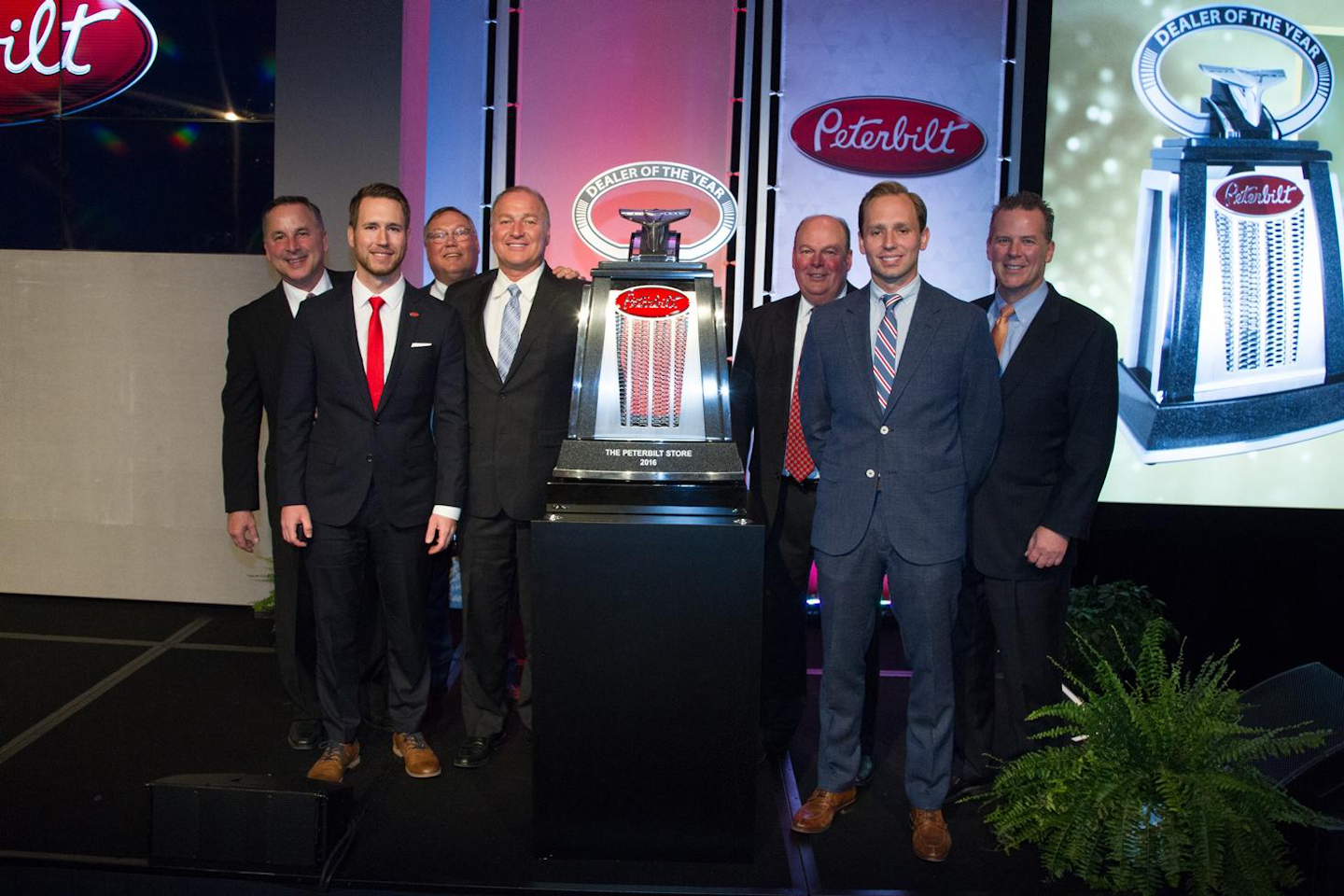 Peterbilt has named The Peterbilt Store, which has 15 locations in seven states, as its North American Dealer of the Year, citing the dealership's "outstanding fleet sales and support, excellent PACCAR MX engine sales and territory acquisition."
The award was presented during Peterbilt's annual two-day Dealer Meeting that includes presentations and break sessions.
"The Peterbilt Store has been an outstanding PACCAR partner since they joined the Peterbilt family, and it's an absolute pleasure to present them with Peterbilt's highest honor, one that is truly earned and deserved," says Kyle Quinn, Peterbilt general manager and PACCAR senior vice president. "The Peterbilt Store is committed to achieving day-to-day excellence, and the results have been realized in sales growth and customer satisfaction."
"We are honored to be recognized for our investments and efforts focused on enhancing our customers' experience," says John Arscott, The Peterbilt Store president and CEO. "Our exceptional team is skilled, hardworking, and committed to ensuring that our customers receive outstanding service and value at The Peterbilt Store."
Peterbilt also recognized its top-performing dealer groups with Best in Class awards, which are based on a combination of "Peterbilt's Standard of Excellence scores, financial performance, parts and service performance and utilization of PACCAR training and programs."
Winners and dealer principles include:
The Larson Group (Glenn Larson)
Peterbilt Manitoba (Doug Danylchuk)
Performance Peterbilt (Nathan Ried)
Hunter Peterbilt (Jeff Hunter)
Camions Excellence Peterbilt (Nicole Lussier)
Western Peterbilt (Edward Dobbs)
Rush Enterprises (Rusty Rush)
Stahl Peterbilt (Eddy Stahl)
JX Enterprises (Eric Jorgensen)
TransDiff Peterbilt de Quebec (Pierre Pouliot)
Peterbilt Pacific (Jim Schroeder)
Jackson Group (Blake Jackson)
Allstate Peterbilt Group (Don Larson and Jeff Vanthournout)
First Class Service Excellence Dealer of the Year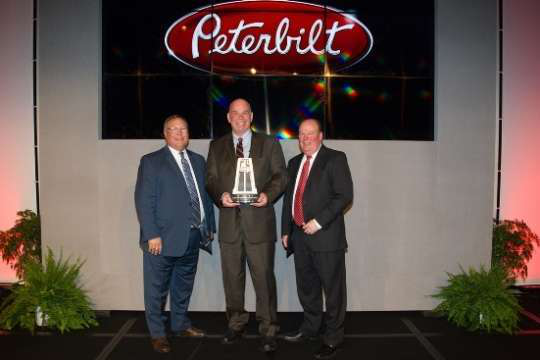 Receiving this award was Peterbilt Manitoba, which had the highest comprehensive dealer group score.
"Whether it's advanced diagnostic equipment to assess and repair problems quickly or highly skilled technicians who know your application and vehicle, the Peterbilt dealership network sets the bar high when it comes to maximizing our customers' uptime," says Mike Conroy, Director of Field Service. "The First Class Service Excellence Award recognizes the best of the best, and is a true testament to Peterbilt of Manitoba and their commitment to customer satisfaction."
"We are proud to receive the First Class Service Excellence award from Peterbilt," says Doug Danylchuk, dealer principle of Peterbilt Manitoba. "Our team recognizes the importance of servicing our customers and providing premium care for the PACCAR MX engines. Measuring the service performance of dealer groups within the Peterbilt network makes us all rise to the occasion and improve our customers' experiences."
TRP Dealer of the Year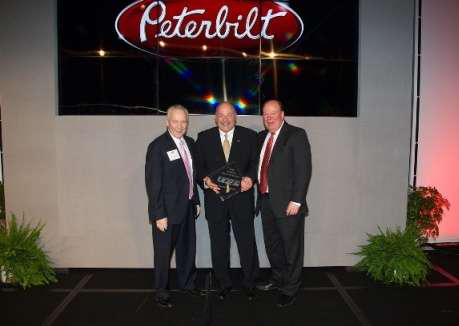 Peterbilt of Atlanta was named the TRP Dealer of the Year for "exceptional sales performance and customer service." The dealership also was cited for opening a TRP all makes parts store in Conley, Georgia in 2016.
"Just as TRP Parts surpass expectations for quality, dependability and value, exceeding customer expectations is a priority for the entire Peterbilt of Atlanta team," says Scott Pearson, Dealer Principal of Peterbilt of Atlanta. "We must maximize our customers' uptime, which involves maintaining a well-stocked inventory of high-quality, cost-effective TRP aftermarket products for all makes."
"Peterbilt of Atlanta's TRP growth was outstanding," says Peyton Harrell, Director of Dealer Network Development. "They committed to early installation of new product lines and proved to be focused on connecting customers with high-performance TRP products. We congratulate them on their success."
Medium Duty Dealer of the Year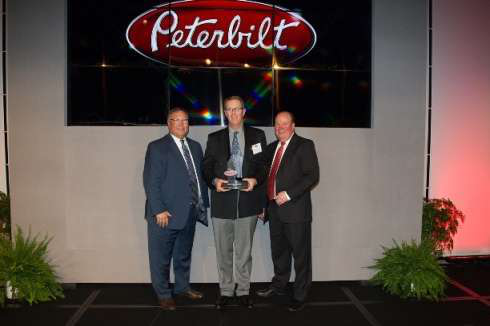 Peterbilt named Coast Counties Peterbilt of California its Medium Duty Dealer of the Year for "outstanding medium duty sales and medium duty market share."
Craig Archer, dealer principal, says the dealership achieved 125 percent of its sales goals with more than 300 medium-duty units sold in 2016, resulting in 18 percent market share.
"We strive to be a complete solutions provider for all of our customers, and this award serves as validation for the hard work and commitment of the entire Coast Counties team to achieve maximum customer satisfaction," Archer says. "Our sales and service of medium-duty vehicles, as well as our strong PacLease franchise, provide our customers with unique solutions to their business requirements."
"Peterbilt's medium duty vehicle lineup is designed to ensure superior performance, durability and operational efficiency for a diverse customer base in a variety of market segments and applications," says Scott Chowaniec, Peterbilt General Sales Manager of Vocational and Medium Duty Sales. "Coast Counties Peterbilt has done an outstanding job of matching these customers to a custom solution, as well as providing the aftermarket support necessary to achieve unparalleled levels of customer satisfaction."
PACCAR MX Engine Dealer of the Year
Camions Excellence Peterbilt is the Peterbilt PACCAR MX Engine Dealer of the Year, named so for its "superior commitment and support of the MX engine."
"We are proud to achieve recognition that pays tribute to our entire Excellence Peterbilt team," says Nicole Lussier, president and dealer principal. "Our sales and service personnel are dedicated to ensuring that the customers who purchase MX engines fully realize the benefits of the MX ownership experience."
North American Parts and Service Dealer of the Year
Peterbilt named The Larson Group its 2016 North American Parts and Service Dealer of the year.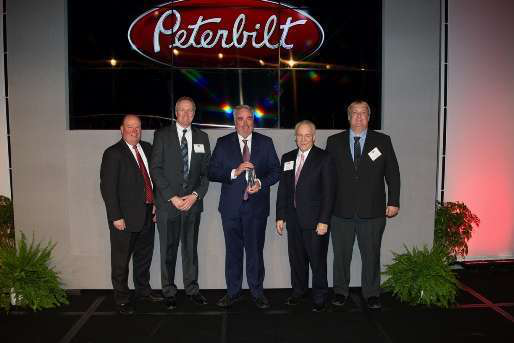 "Every member of our team is committed to creating an unparalleled ownership experience for our customers, and that includes maximizing their uptime and minimizing their costs for the entire life of their truck," says Glenn Larson, president and dealer principal. "We will continue to invest in the skilled technicians, technologies and training that ensure that our customers' expectations are not only met, but exceeded. It is that commitment that has resulted in the honor of being named the Peterbilt Parts and Service Dealer for 2016."
Founded in 1987, The Larson Group added three new locations in 2016, for a total of 19 locations in eight states, as well as six new outside sales staff personnel.