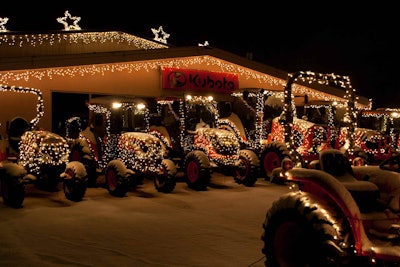 Messick's Farm Equipment, a Kubota, Case IH and New Holland dealer located in Elizabethtown, Pa., will open its annual Christmas light show to the public Dec. 2.
Over the last four years the show has grown from some lights strung around a tractor sitting alongside the highway near the shop, to an all-out light show spectacular, complete with music, snowblowers, flamethrowers and a lot of complicated setup.
The show is comprised of four songs, giant LED light bars and more than 70,000 lights that cover mowers, tractors, excavators and more.
The show attracts thousands of visitors each year and last year raised $30,000 for charities. This year's proceeds will go to the Paxton Street Ministries, Water Street Rescue Mission, Mennonite Disaster Service and the Elizabethtown Community Cupboard.
The first show will begin Dec. 2 at 6 p.m. and the shop will continue playing the display until 9:30 p.m. Messick's says it will run the show through Dec. 30. The shop is located at 187 Meets Drive, Elizabethtown, PA 17022.