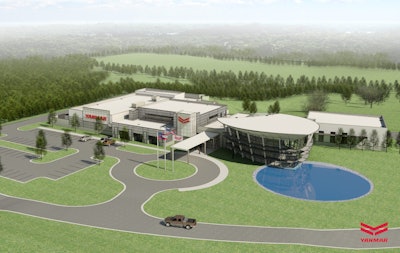 Yanmar America, based in Adairsville, Georgia, has announced it intends to build a new training and customer experience facility on more than 50 acres the company recently bought near Acworth, Georgia.
The company is planning a groundbreaking ceremony November 16 and expects to open the facility in August 2017.
"Yanmar is proud to continue our investment in the North American market," says Takehito Yamaoka, president of Yanmar, Co., Ltd. "We believe this new property will help us support our growing dealer network and end user customers, while also broadening our company's initiatives related to our mission of creating a more sustainable future."
The company says the roughly 50,000 square foot facility will have classrooms with dedicated space for each product line, including industrial diesel engines and generators, commercial marine diesel engines, agriculture equipment, construction equipment, utility task vehicles and energy systems.
The building also will include an auditorium, museum, gift shop, cantina, office space and meeting space. The grounds surrounding the complex will include a customer experience area for product demonstrations.
"We want to better equip our customers to make them successful in their businesses and with the Yanmar product," says Yamar America president Tim Fernandez. "This new facility will allow us to offer proper training for all aspects of our business, while also providing premium experiences through partnerships with the local communities and industry partners such as farmer's markets, civic group meetings and consumer educational opportunities."
Croft Architects Engineers of Kennesaw, Georgia, will design and engineer the facility and Gainesville, Georgia-based Carroll Daniel Construction will be the general contractor.