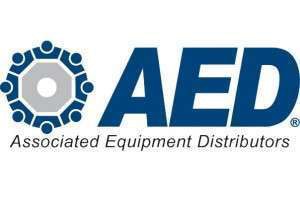 The Associated Equipment Distributors (AED) 2017 Summit, scheduled for January 10-13 in Chicago, has added new professional dealer education sessions to the program aimed at enhancing customer engagement, sales and product support for distributors.
The association, with roughly 500 distributor member companies, represents companies involved in the distribution, rental and support of equipment used in construction, mining, forestry, power generation an industrial applications.
"AED wants to provide a convenient program for attendees to grow and develop skills unique to the construction equipment industry," the association says. "With each session, there are tremendous opportunities to expand on existing knowledge while learning new, valuable information to take back to your dealership."
The sessions will run January 10-12, with AED identifying the following "key takeways" for the program.
Determine how to get the most out of ConExpo-Con/Agg 2017
Discover key issues for the equipment distributor industry
Communicate and manage different personality types
Enhance your technician strategy and align your talent
Learn the top reasons why your rent to rent fleet is under-performing
Delegate to become a high performing and efficient dealer
Determine marketing strategies for your dealership
Detect how to maximize your parts, service and sales profitability
The seven topic areas and specific sessions include:
Customer Engagement
Modern Marketing Strategies for Engaging Invisible Buyers Online
How To Get the Most Out of ConExpo-Con/Agg 2017
Dealing With Difficult Customers and Situations
What's Your Uber?
The Science Of Silence: Can You Hear Your Body Talking?
Keeping You Connected to Your Customers
Executive
The Polished Professional
Wine 101 for Business
Navigating the New Lease Accounting Regulations
Mergers & Acquisitions – Key Issues for the Equipment Distributor Industry
Forecasting for 2017: An Economic Outlook
The Evolution of Employment Law: How Social Media, Marijuana, and LGBTQ Rights Impact Your Business
The View From the Hill: Risks and Opportunities in the New Political Environment
A Dealer's Guide to Navigating Private Equity
The Business Benefits of Minority and Woman Owned Dealerships
People Management
Run, Hide or Fight: Surviving an Active Shooter Event
Communicating with Impact: Managing Personalities Different than Yours
More than Just Compliance: The Changing Face of Wage and Labor Law
That's the Way We Do Things Around Here
Innovative Technician Recruiting
Aligning Talent with Your Business Strategy
Product Support
Turning Investment into Margin: How to Make Your Customers Appreciate You
Does E-commerce Really Work in Our Industry?
Parts Inventory: Valuable Asset or Black Hole?
Maximizing Parts Sales and Profitability
Drone Industry 101: The Critical Components to Use Drones Effectively
A Financial Perspective on Dealership Operations
Rental
Future Distribution – Rent to Rent is Required!
Top 10 Reasons Why Your Rent to Rent Fleet is Underperforming
Sales
Negotiating the Big Sale – Tips for Aspiring Sales Leaders
Predictive Marketing Strategies for the Data-Driven Dealer
VITAL Planning Regimens for Construction Equipment Sales Professionals
The SELL Process – Your Offense and Defense (part 1 and part 2)
Investing in Relationship Capital
Small Dealer
Getting More Done – Effectiveness and Time Management
When to Outsource: Partnerships That Pay
Knowing When to Delegate
More details on the AED 2017 Summit are available at https://aednet.org/events/summit