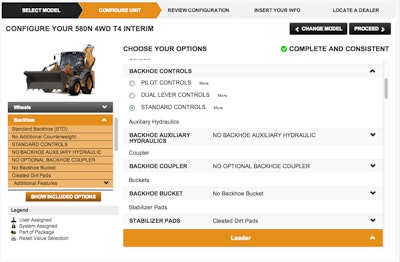 Case Construction Equipment has added a new tool to its website that seeks to shorten the buying process for its customers.
The new Case Configurator allows customers to spec out any Case machine and send the specs to their local dealer—all from the comfort of the Internet.
Case says the online Configurator allows customers to delve into all available options for each of their machines. The hope is this will better inform customers "in order to have a more productive conversation" with dealers with the end goal of making a more informed purchase.
You can check out the Configurator at https://www.casece.com/northamerica/en-us/resources/configurator.