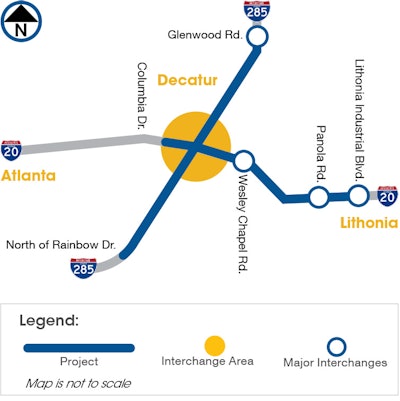 Plans are proceeding on reconstructing the busy Interstate 285/Interstate 20 East interchange near Atlanta.
The Georgia Department of Transportation will issue a request for qualifications July 1 for a developer of the $350 million to $450 million design-build-finance project in DeKalb County. Construction is expected to start in 2022 and take 42 months.
The project is designed to improve safety and traffic flow. It will involve reconstructing ramps, replacing bridges and adding collector-distributor lanes and auxiliary lanes.
The GDOT will procure the project's design, construction and financing with participation from the State Road and Tollway Authority. The GDOT will serve as the project manager, and SRTA will contract with the developer.
Under the plan, the developer is expected to finance part of the construction. The toll authority will then pay the developer, with the developer being fully repaid no later than four to five years after construction is completed, according to the GDOT. Such public-private financing partnerships have allowed departments of transportation to speed up major road projects by allowing lengthier financing schedules.
See below to watch a GDOT animation of the future interchange: