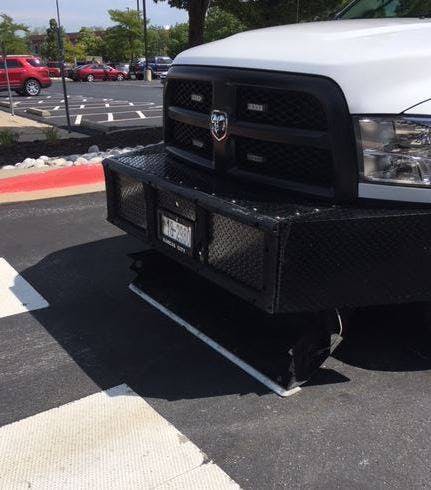 In 2004, Missouri Department of Transportation employee Julie Love was struck by a vehicle while removing debris from a road.
The MoDOT now hopes a new device the agency has developed and named in her memory will prevent such deaths.
It's known as JAWS, which stands for Julie's Automated Waste-Removal System. Mounted to the front of a pickup, the device is operated remotely from inside the truck, so workers don't have to enter the road to remove debris.
JAWS is an automated drop-down skid plate that can scoop up debris and move it to the shoulder out of traffic, where it can be handled more safely. The operator uses a remote hand control to operate it. A mounted camera gives the operator visibility.
To see how JAWS works, watch this video:
The KC Scout Traffic Incident team, which handles traffic management, came up with the idea, and MoDOT's Fleet Team developed the device. MoDOT says it is adding at least 27 more of the devices to be used throughout the state.
Along with being safer, the device saves money by requiring fewer workers and vehicles in removing debris, according to the agency.
JAWS has also been getting some outside attention, winning awards including one for safety from the international Institute of Transportation Engineers.
"Innovation is at the core of our culture and this piece of equipment is just one example," says MoDOT Chief Engineer Ed Hassinger. "Our employees are challenged to take their ideas, put them into practice so we can continually get better. They found a safer and better way to get the job done."