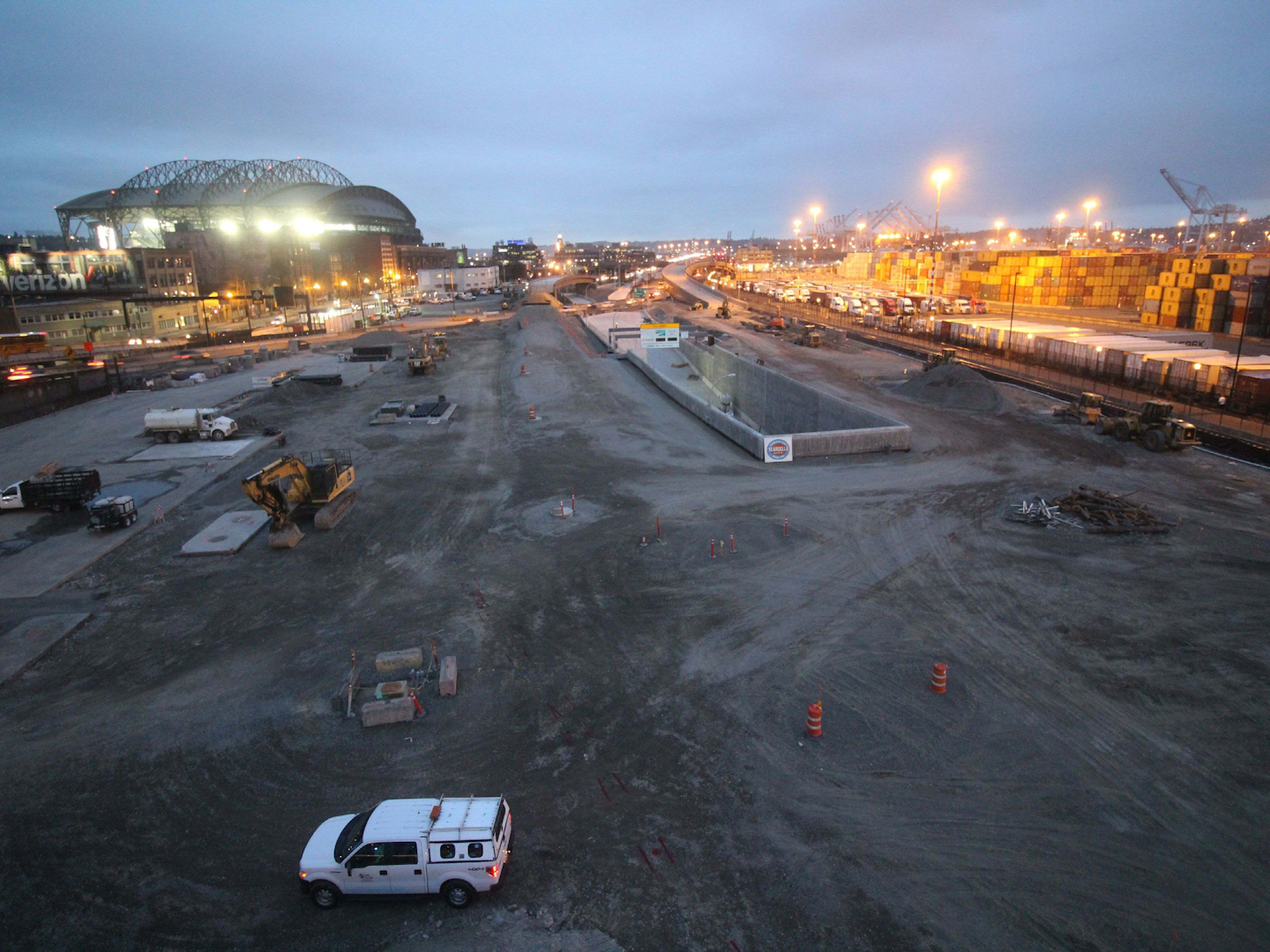 The Washington State Department of Transportation reports that the last of 1,152 road panels have been installed on the new State Route 99 tunnel, which will replace the Alaskan Way Viaduct.
The panels form the lower deck of the double-deck highway, which will allow drivers to travel under downtown Seattle as a bypass or stay above and head into downtown.
WSDOT says it hopes to complete the $2.1 billion project in the fall. Its next step is to install the systems that will make it "one of the smartest tunnels ever built."
Those systems include 300 cameras to monitor traffic and security to detect any incidents that require attention.
The tunnel will also have an automatic ventilation system that will turn on in case of traffic jam, fire or other situation that requires more fresh air to be circulated through the tunnel. Sensors are also in place to detect a fire. Sprinklers will automatically activate to extinguish it. WSDOT says the tunnel has over 100 "safety zones" where sprinklers can be used in a targeted approach.
Here's a video outlining some of the tunnel's smart features:
The contractor on the tunnel project is Seattle Tunnel Partners. A different contractor will align the tunnel and build ramp connections to and from the tunnel, WSDOT says.
The 1.7-mile tunnel is one part of a $3.2 billion replacement of the Alaskan Way Viaduct, which was built in the 1950s, has deteriorated from decades of use and is vulnerable to earthquakes, according to WSDOT.
Work on the tunnel began in 2013 with the use of Bertha, one of the world's largest tunneling machines. The project is about three years behind schedule due to several delays and mechanical issues with the Bertha tunneling machine.
Once opened to traffic, drivers approaching the tunnel from either direction will face a choice depending on their destination: use the tunnel to bypass downtown, or exit to city streets and head into downtown, according to WSDOT.
At the tunnel's north end, downtown access will be similar to today, with on- and off-ramps near Seattle Center. From the south, new on- and off-ramps will connect SR 99 to downtown via the new waterfront street.
According to WSDOT, the SR 99 tunnel will contain:
95 miles of electrical wiring
21 miles of sprinkler pipes
15 miles of lights
13 miles of fiber optic cables
8 miles of linear heat detectors