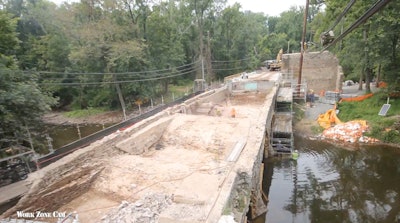 The Work Zone Cam time-lapse video below shows the reconstruction and reopening of the oldest stone arch bridge in Princeton, New Jersey, the 225-year-old Stony Brook Bridge on Route 206.
The bridge partially collapsed after heavy rains in February 2016 and was closed, NJ.com reports. Emergency repairs allowed it to open temporarily, but the damage proved to be extensive. So, in July 2017, the bridge was closed again and the New Jersey Department of Transportation (NJDOT) completely reconstructed the historic bridge and the adjacent Flood Channel Bridge.
"We stripped down the old arch bridge, redesigned the inside of the arch bridge with 21st century technology," said David Lambert III, NJDOT assistant commissioner and engineer, according to the news agency. "We then covered the outside with this beautiful stone work (using the) 18th century bridge building techniques from the original construction."
"I have tremendous respect for everyone on the team for approaching the challenge (of rebuilding) with sensitivity and humility and a sense of cooperation," said Princeton Historic Preservation Officer Elizabeth Kim, according to the news agency.
The reconstruction project was completed in November 2017, on time and on budget.