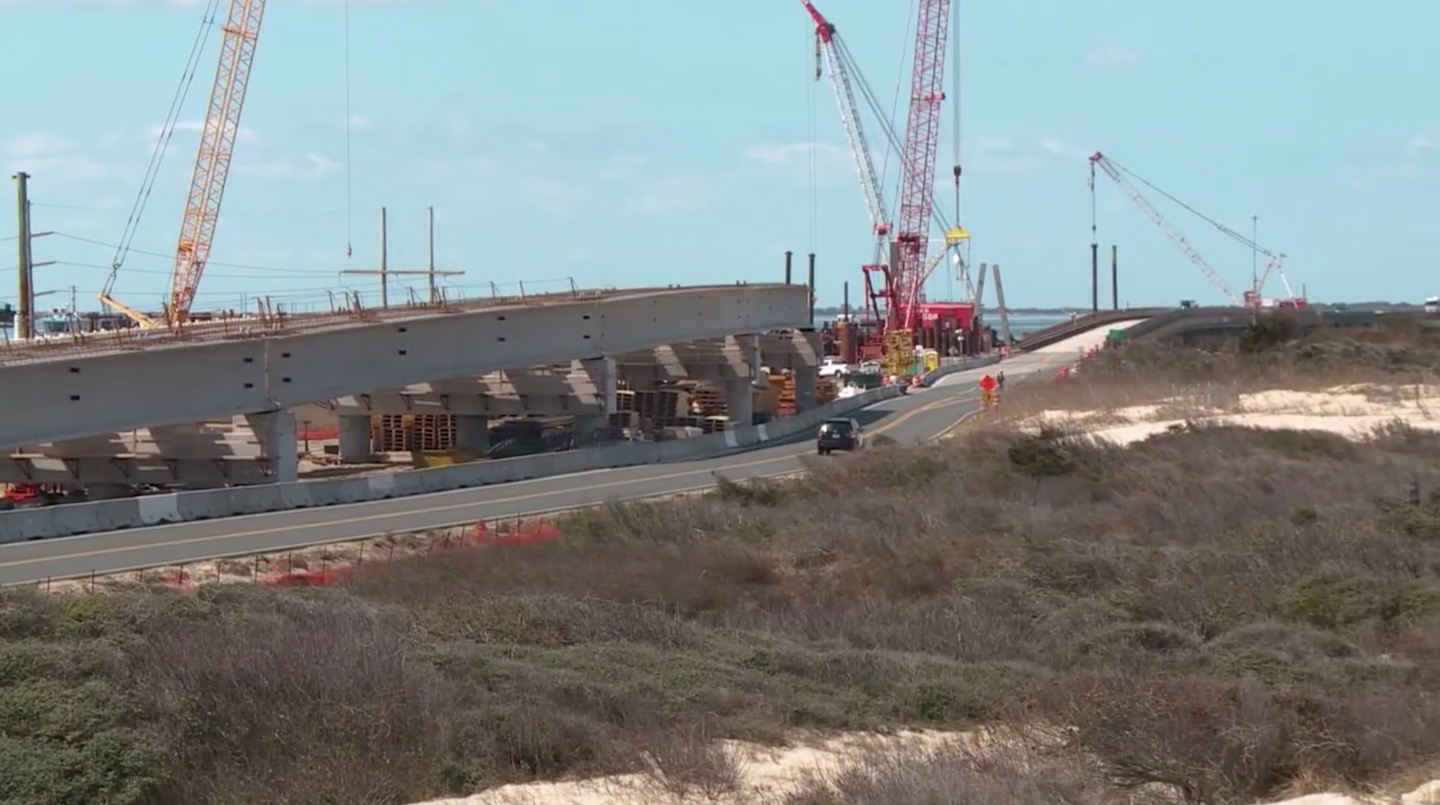 Dare County, North Carolina recently released a video on its Government and Education Channel's Facebook page that shows current progress on the Bonner Bridge. The Island Free Press reports that the video offers updates on the work done by crews to finish Bonner Bridge, as well as work on the Pea Island Interim Bridge, both of which are slated for November 2018 completion.
Five spans of the northern edge of the bridge deck, three of which are 160 feet in length, have been installed and poured with concrete. Crews have also begun pouring and forming the concrete guardrails along the sides of the bridge.
With the first column completed and clearly visible, crews have begun installing the first pre-cast segments of the "pier table." The 95-ton, 19-foot-tall segments will be linked together with steel cable to form the decking for the bridge in the highest spans of the bridge.
Land-based pile driving at the water's edge on the south side of the bridge has resumed as crews work towards the six girder spans that are already in place on the southernmost end of the bridge. Crews are also constructing a work trestle that will make it possible for them to move north through the shallow waters of the inlet to join the northern site.
At the Pea Island Interim Bridge site, crews are working to complete the installation of caps that will allow installation of the last three spans of girders on the bridge's north end that will meet the roadway. On the south end of the interim bridge, crews are wrapping up pile driving and installing the remaining sheet pilings, which is expected to be finished by the end of April 2017.
Additional information is available from the North Carolina Department of Transportation.
Bonner Bridge Replacement Project Update – April 12, 2017

Exciting progress is being made at the sites of the Bonner Bridge Replacement Project! See the progress for yourself in this month's Bonner Bridge Replacement Project Update, now airing daily on the Government Channel (Charter Spectrum Channel 191).

Posted by Gov-Ed TV on Wednesday, April 12, 2017