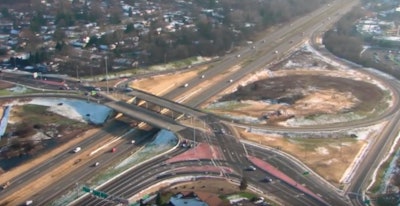 The Michigan Department of Transportation (MDOT) says drivers have quickly adjusted to the new diverging diamond interchange (DDI) opened in Grand Rapids Township in mid-November.
DDIs eliminate left turns that have to clear opposing traffic, a design that is useful in high-traffic areas. They can cut down on congestion, improve safety, and move traffic along faster than traditional interchanges. The Missouri Department of Transportation installed the first DDI in the country in Springfield in 2009.
"We've heard not but good things from our resident and drivers," says State Rep. Chris Afendoulis (73rd District). "It not only functions more efficiently, it is also safer for both motorists and pedestrians."
Afendoulis, along with Grand Rapids Charter Township Supervisor Michael DeVries, recently rode along with MDOT staff through the interchange and recorded their experience. This, along with a history of the interchange and some time-lapse footage of construction, are shown in the video below.
"We are thrilled with the new interchange," says DeVries. "Investing in innovative transportation solutions benefits everyone."
The DDI in Grand Rapids Township is one of two in the state, with the first being built in 2015 in Auburn Hills on University Drive over Interstate 75.