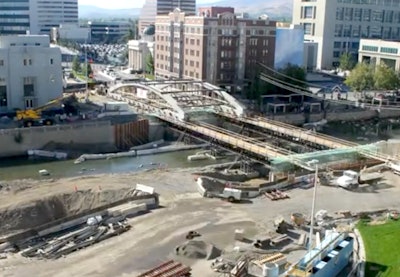 The time lapse video below shows the entire construction project of the Virginia Street Bridge in Reno, Nevada. The 110-year-old original earth-filled, concrete-arch bridge was showing signs of extreme wear, so the City of Reno, in partnership with the Truckee River Flood Management Authority, the U.S. Army Corps of Engineers, and the Federal Highway Administration, implemented a plan to replace the bridge while still preserving its history.
According to the Virginia Street Bridge Project website, construction of the new bridge began June 1, 2015 and was completed ahead of schedule in just 180 days on April 12, 2016. This was made possible by a construction technique called the 'bridge launch' that allowed the arches and the bridge foundations to be constructed at the same time.
The new 166-foot-long bridge is a reinforced-concrete, rigid frame, tied-arch bridge that varies in width from approximately 84 feet to 98 feet. Cable hangers on the arch above the roadway support the bridge deck. The sidewalks on both sides of the river were also reconstructed, as well as the roadway along Virginia Street between the intersections of Mill Street and First Street.