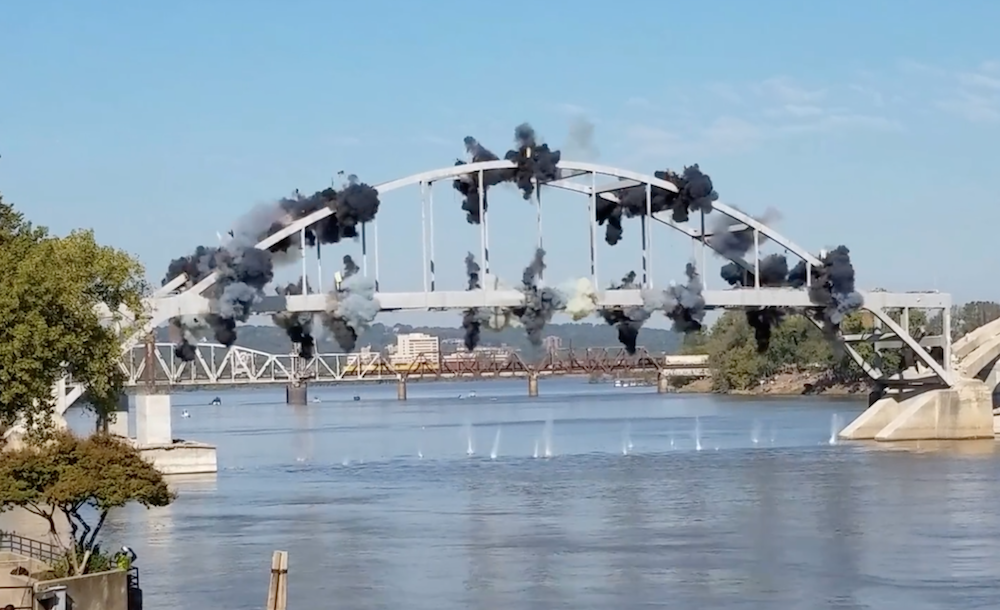 The demolition of a nearly 100-year-old bridge in Little Rock that should have taken less than a minute ended up taking Arkansas Highway and Transportation Department (AHTD) crews more than five hours to bring down Tuesday.
According to a report from KATV 7, the Broadway Bridge was decommissioned in September after it was deemed structurally deficient. "It has survived the 1927 Flood, The Great Depression and WWII," said Little Rock Vice Mayor Lance Hines. And on Tuesday the bridge survived this explosion:
Following an inspection of the bridge after the failed explosion, AHTD said everything but the outcome went as planned, noting that the charges made all the cuts they were supposed to. Officials said the bridge remained standing because it fell into itself.
Well, that didn't go quite as planned…. #BroadwayBridge #TheDayTheBridgeStoodStill pic.twitter.com/RFuVUYEXZ6

— AHTD (@AHTD) October 11, 2016
So, AHTD crews rigged up cables and began trying to pull the bridge down via tugboat. It took eight attempts before the bridge finally caved:
With the old bridge down, AHTD will now start the process of replacing it with a new span. That project, KATV reports, is expected to be complete in six months.