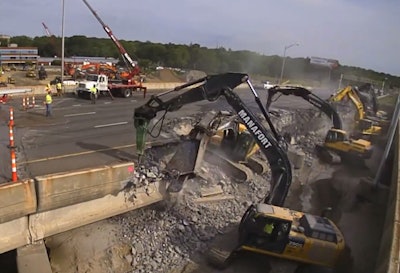 The fascinating video below, filmed by the Connecticut Department of Transportation (CTDOT), might be our new favorite construction time-lapse.
From several different angles, the video shows how Manafort Construction Co. demolished and replaced the Lindley Street bridge on the southbound side of Route 8/25. The CtPost reports that the video shows design/build construction that allowed CTDOT to demolish and replace four bridges in just one summer, rather than two years.
Prefabricated sections of the bridge were built off site, hauled to the site by large trucks after the old bridges were demolished, and set in place by large cranes. Due to the speed of the project, motorists only had to endure traffic shifts and lane closures for a month. The project cost more than $35 million.