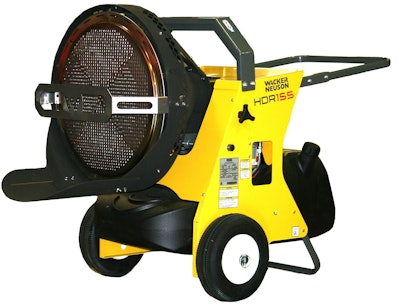 Wacker Neuson has introduced its HDR 155 Direct-Fired Radiant Heater, which is designed to be wind- and weather-resistant.
The HDR 155 delivers 155,000 BTU per hour, providing heat to workspaces, workers, equipment and structures from about 15 feet away.
The heater uses infrared heat, allowing it to warm with quick, intense heat and without first needing to warm the surrounding air.
[youtube tos3trXSKsg nolink]
An oil flame heats the HDR 155's stainless steel disc to about 1700 degrees Fahrenheit, then the shield emits infrared waves that travel straight away from the heater, allowing the heat to reach the space it is intended to warm without being affected by the weather.
The HDR 155 is designed with three concentric cones: an inner cone that contains the flame, a center cone that protects the outer surface from heat and an external cone that is made of high-temperature-painted carbon steel. The cones produce a "refractory free" cooling system that keeps the outer surface cool with little maintenance.
Other features include a 300-series stainless steel front panel; large pneumatic tires; single point lift bail and tie-downs; a retractable floor guard; a two-position, 10-degree adjustable housing; and a rotomolded plastic fuel tank with a 15-hour run time capacity.
An optional remote thermostat is also available.
Check out the video above for more details about the HDR 155.