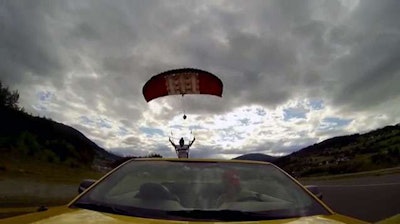 This is one way to travel: Start by skydiving and end up in a moving car to get you to the next location.
[youtube hQ9PJ5JtATQ nolink]
Traveling between 20 to 40 mph in the air, 28-year-old nurse Katie Hansen from Northern California landed into a moving Mustang convertible as part of an extreme sports event in Norway, according to a report from ThePostGame.
The car was traveling at about 40 mph.
Hansen performed the car stunt this past summer, but a video of the stunt made its way to the AviatorShow channel on YouTube this past week.
Check out the video (to the right) of the incredible stunt.