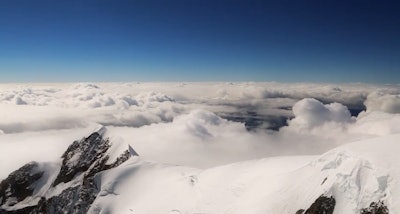 The highway and bridge construction industry uses surveying in building this infrastructure, but I bet most of you haven't climbed a mountain to conduct surveying.
This is a pretty neat video of surveyors climbing the Swiss Alps' Mont Blanc in Heerbrugg, Switzerland, which is Europe's highest peak, to try out a new measurement technology.
However, it's a pretty formidable challenge – because of both its elevation and its extreme weather. (To see why it's considered one of world's deadliest mountains, click here.) It's the strong winds and snow that continuously cause altitude changes to the mountain summit's ice and snow caps that motivate expert surveyors to try out different technologies.
[youtube 8vzlg3jl7y0 nolink]
Chartered Land Surveyors from the Upper Savoy region in France and two surveyors from Leica Geosystems France decided to make the first ever 3D laser scan of the shape and volume of the mountain's ice cap using the Leica Nova MS50 MultiStation.
To make this scan, the surveyors withstood cold temperatures and high winds to set up a Leica Viva GS14 GNSS antenna to measure the height as well as take roughly 100 point measurements of the ice cap. The Leica multistation scanned the ice cap and recorded thousands of points within minutes. For more details on this expedition, click here.
That's a pretty cool trip to make to try out surveying equipment. It sure beats the rock wall at my gym!
To see more about this expedition, check out the included video.