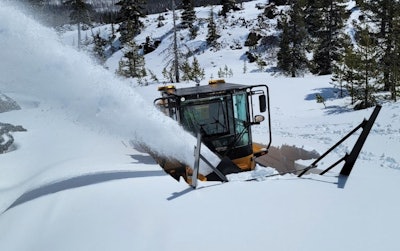 Larue
The Wyoming Department of Transportation's District 1 recently posted a video of its new, massive self-propelled snowblower clearing a state highway:
The district, based in Southeast Wyoming, posted the video May 8 on Facebook of its new Larue T80. The 755-horsepower behemoth can blow 5,000 tons of snow per hour and work at travel speeds of 12.5 mph. It can cast the snow as far as 130 feet away.
The T80 is also used by Washington and Oregon departments of transportation. Check out the video below from Larue of those two departments' T80s demonstrating some deep snowblowing action:
The Wyoming department was using the snowblower on State Highways 130 at Snowy Range and 70 at Sierra Madres after first cutting the drifts 3 to 4 feet above the road with a snowcat. The roads are being cleared with a goal of having them open by Memorial Day. The DOT paid $700,000 for its T80, according to Cowboy State Daily.
The T80 is designed for mountain and interstate snow removal at a high working speed, according to Larue, which is based in Quebec City, Canada. The company launched the T80 in 2020.
The T80 has an R60M mechanical-drive blower head with 16-foot-high cutters.
The snowblower runs on a Cat C18 diesel engine and delivers 2,582 pound-feet of torque. It weighs 32,900 pounds and can travel up to 47 mph on the road.
It is 23.3 feet long, 12 feet high and has a wheelbase of nearly 11 feet.
Larue loads the T80 with a lot of standard features, such as: air-ride driver seat, passenger seat, ergonomic multifunctional joystick and keypad control, joystick-controlled transmission gear, 5.7-inch LCD screen, high-capacity cab heater, heated mirrors, 12V electrical system, two HID lights, two cab-mounted LED lights, strobe light, power steering, 4x4 permanent drive, differentials lock, hydrostatic infinitely variable transmission, maintenance-free self-adjusting clutch, tungsten carbide skid shoes, high-strength steel scraper blade, Hardox 550 drum, 150-degree drum rotation, two-stage air cleaner, conveyor and impeller reverse function, single-side fuel fill and a block heater.