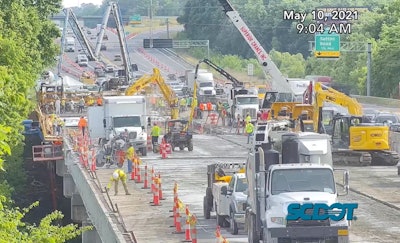 SCDOT
Editor's Note: This story was updated May 27, 2021, with the full time-lapse video of the project.
Thanks to 24/7 work in all weather, the South Carolina Department of Transportation reports that it is ahead of schedule on rebuilding the deck of a heavily traveled bridge south of Charlotte.
Crews have been simultaneously demolishing sections of the bridge deck while pouring concrete on other sections since May 6, working 12-hour shifts around the clock seven days a week. (Check out a time-lapse video of the work at the bottom of this article.)
The SCDOT project on the southbound I-77 Catawba River Bridge was completed May 21, well ahead of Memorial Day weekend.
The DOT expects the bridge, which handles up to 120,000 vehicles a day, to last another 30 to 40 years after the rehab. The bridge was built in the 1970s and was showing signs of deterioration, SCDOT says. The bridge has been repaired several times over the years.
United Infrastructure Group of South Carolina is the contractor on the $12.7 million project. United faced penalties of $10,000 per hour if the project had run over deadline.
The SCDOT closed the section of highway to allow the expedited construction. "The short-term inconvenience of traffic delays and congestion is significant," says SCDOT Deputy Secretary for Engineering Leland Colvin, "but we expect to get another 30 to 40 years out of this substantial improvement."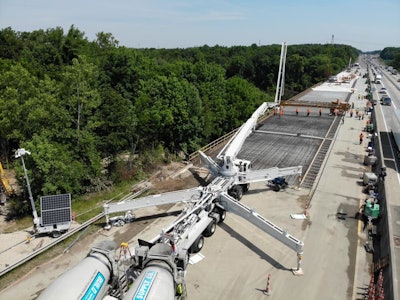 Check out these time-lapse videos of the project released by the SCDOT.
This SCDOT video shows work between May 6 and 21: