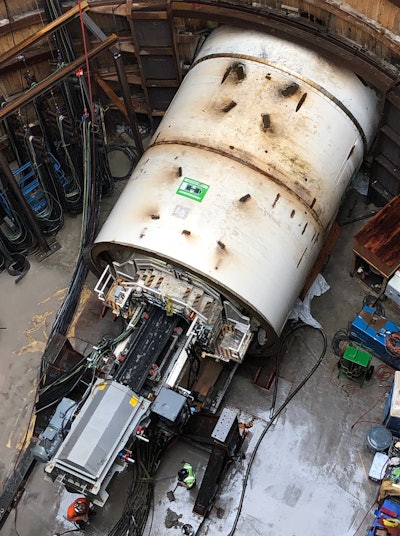 Photo credit: Oakland Corridor Partners
A new tunnel boring machine, named Eliza, is cutting her way underground in the Detroit metro area for a 4-mile-long drainage tunnel.
The tunnel is part of the $630 million third and final segment of Michigan's I-75 Modernization project for Oakland County. The tunnel and new drainage system are designed to prevent flooding in metro Detroit as well as upgrade a 50-year-old system.
Eliza has traveled 1,300 feet as of January 21, according to the Modernize 75 website. That's about 6 percent of her total journey, which is expected to be completed in 2023. Eliza is named for Eliza Seaman Leggett, whose home in Oakland County was a stop on the Underground Railroad.
Eliza is boring 100 feet below an I-75 service road and cutting at a 14.5-foot diameter. When completed, rainwater from the freeway and nearby streets will flow through drainage shafts into the tunnel. The water then flows to a pump station and is lifted 100 feet to be discharged into a retention treatment basin, according to the Michigan Department of Transportation.
Eliza was launched July 14 down a 100-foot-deep shaft designed for the boring machine. It will first drill north to a pump station, then be removed and replaced down the shaft to drill south to a shaft site.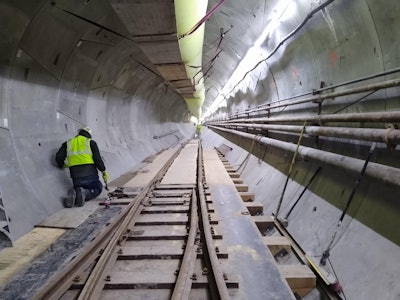 The automated tunnel boring machine uses a rotating cutting wheel with teeth that dig into the earth. Concrete panels are placed behind the machine by workers. Hydraulic jacks at the back of the machine push off the ends of the concrete to propel it forward. Underground workers are protected by a shield and supported by a procession of electrical, mechanical and ventilation equipment that travels along rail tracks installed in the tunnel. A small train is used to bring in the concrete panels and haul out the excavated material.
Along with the tunnel, the third segment of the I-75 reconstruction consists of rebuilding 5.5 miles of pavement and replacing 25 bridges, according to MDOT.
All three segments combined, 18 miles of the I-75 freeway will have been reconstructed between M-102 (Eight Mile Road) and South Boulevard in Oakland County, 47 bridges replaced, and HOV lanes added in each direction. The first segment has been completed, and the second segment is almost finished.
The design and construction of the 5.5-mile third segment will cost $630 million, according to MDOT. The agency has signed a 30-year, $1.4 billion agreement with Oakland Corridor Partners that also involves financing and maintaining the section of I-75. MDOT will pay the partners over that period, which enables the agency to spread out the costs and lock in long-term pricing.
For an overview on the I-75 reconstruction as well as Eliza, watch this MDOT video: