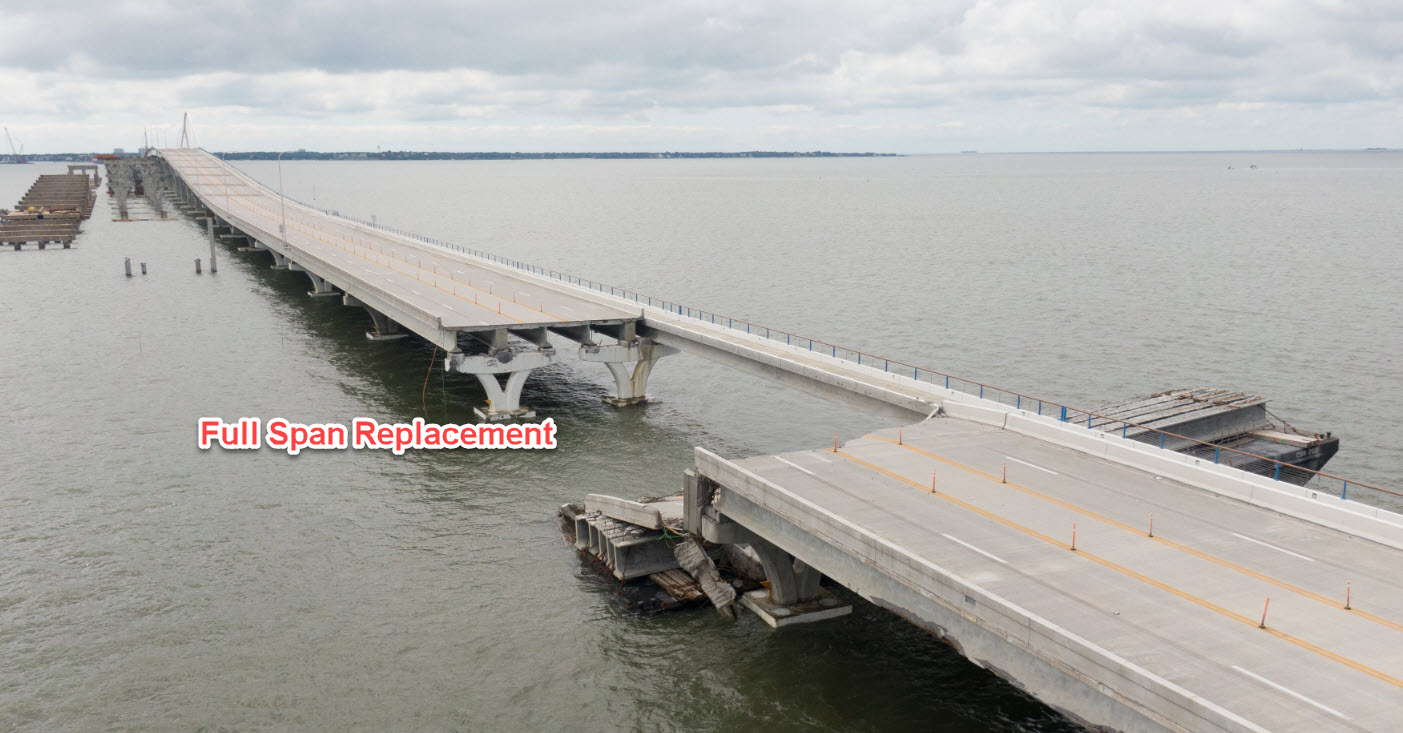 The Florida Department of Transportation is eyeing a March reopening of the Pensacola Bay Bridge, a new bridge that was struck by multiple loose construction barges during Hurricane Sally.
The FDOT reports that 15 of the 27 barges have been removed from the area, including two of the three barges stuck under the bridge. A damaged span on the bridge has been removed and "crews continue to carefully remove damaged portions from additional spans in order to minimize impact on the existing structure," FDOT says.
The bridge between Pensacola and Gulf Breeze, Florida, was damaged September 16 during the storm. FDOT has reported previously that five spans will require full replacement and two more will require partial replacement. It also reports that at least 12 pedestrian spans will need to be replaced.
Skanksa had just completed construction on the bridge last year. It is the future eastbound span for the $430 million project. The westbound span is under construction. The former bridge was demolished, and the new span had been serving as the crossing for traffic. The Pensacola Bay Bridge represents the largest transportation project for northwest Florida. Construction began in 2017.
The agency says it is still assessing the number of spans, beams and piers that must be replaced, and Skanska, the bridge's contractor, has fabricated 25 beams and piers to start repairs. Skanska is also building more replacement beams and piers offsite and is seeking production help from other facilities, according to FDOT. "This aggressive effort will allow the installation of these items to commence as soon as demolition of the damaged items are complete."
FDOT says its divers have inspected 202 underwater footings, while top side inspection teams have assessed 105 spans, 202 piers and 525 beams.
In the aftermath of the incident, FDOT reports additional deployment of resources to the bridge. Along with two other bridge contractors, that includes:
50 additional personnel to expedite demolition.
Eight dive teams to assist with the final inspection.
Five barge-mounted cranes, including two 300-ton cranes.
A specialty barge designed to take large damaged sections away from the bridge for demolition or to be delivered to an artificial reef site. "This will allow repair work to proceed without having to wait for deck demolition to be complete," FDOT says.
"The design is underway for the permanent repairs and reestablishment of four lanes of traffic on the bridge with a focus on substructure repairs which includes the piers," FDOT says. "Durability, and ensuring there is absolutely no reduction in the bridge's strength as a result of the repairs, remains paramount in the design plans."